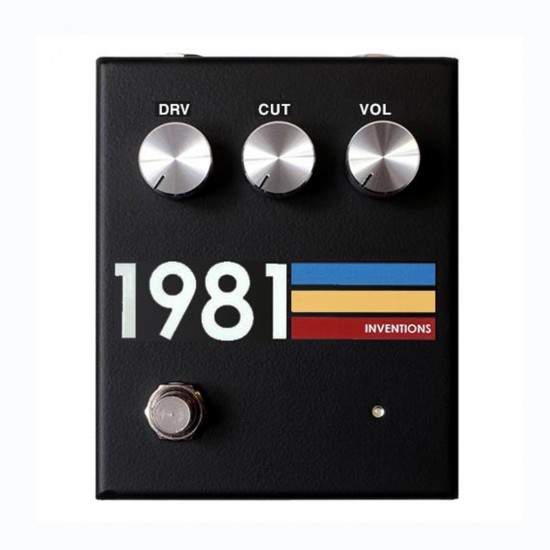 Out Of Stock
1981 INVENTIONS - DRV BLACK No.3

1981 INVENTIONS
EXCLUDED FROM ANY COUPON CODE.

A uniquely designed steel enclosure made with quality components throughout. 1981 Inventions goal was to spare no expense. They realized that sometimes in the world of guitar gear, there isn't always one answer in choosing the best components and designs, so they just picked their favorites. This includes Switchcraft 11 open frame jacks, and a super quiet soft touch switching system via an internal relay.
1981 Inventions have been working on this project for the better part of three years, as a collaboration and with engineering by Jon Ashley of Bondi Effects. They feel that the pedal is unique in design and sonically unlike anything you have ever heard, especially in the lower gain and boost settings. There is a subtlety that feels more like a vintage pedal than a modification of a classic. There are two circuits present in the pedal, one distortion and one preamp boost, running at 18v via an internal voltage regulator. 1981 made this pedal with the idea to create a distinction for the creator's own sound, and what they found is that it is an extremely useful tool for capturing a lot of different types of sounds. 1981 is most proud of the lower gain side, as I feel it is the most unique section of the pedal, but they also knew and include that the gain section is extremely sweet sounding throughout, especially for heavy and complex chords. There is a midrange punch that you will love and a warmth and thickness that reminds you a bit of a ribbon mic. When the development of this pedal turned into something new and unique, it became the catalyst to starting 1981 Inventions, so they have decided to make this the first official release.
WATCH THE DEMO HERE