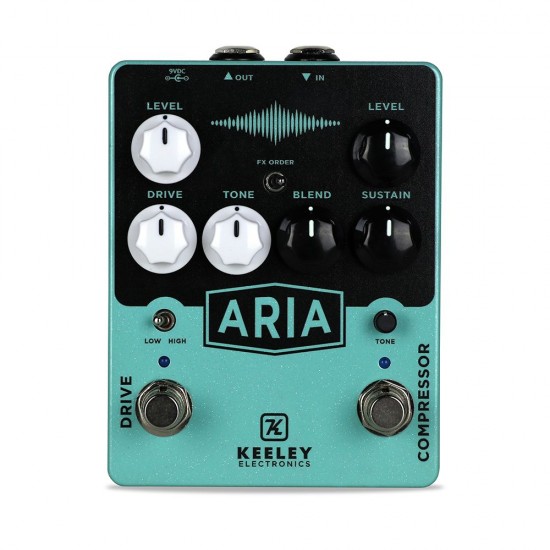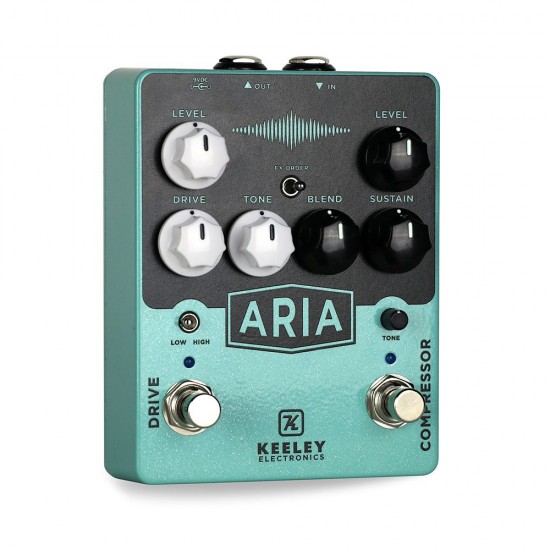 Out Of Stock


Keeley Electronics - Aria - Compressor & Drive

KEELEY ELECTRONICS
Keeley have an outstanding reputation for making boutique compression and drive pedals and taking simple effects to the next level. The Aria delivers two-in-one stompbox effects to fill your need of gain and control in equal measure.
Part of what makes the Aria so impressive is the ability to select whether the drive or compressor lines up first in the signal chain. The classic compressor first routing squeezes static noise to a complete minimum and delivers an even output across all your playing, no matter how hard you pick. When placed behind the overdrive, you'll find the sustain is considerably increased.
The Aria also benefits from TRS insert jacks to insert other effects in between the compressor and the overdrive.
Stylish compression
On the compressor side of the pedal, you have four dials to change the level, sustain, blend and tone running through your chain. Level simply varies the overall effect the pedal has and the strength of the compression while sustain lets the tone breathe, unlike some other compressors that squash the life out of the guitar.
The tone and blend controls work in harmony to produce a range of earthy to treble-cutting tones and note definition you wouldn't find on compressors in a lower price bracket.
Versatile gain
Keeley have packed two of their overdrives into the Aria, providing a wide array of tonal options. Using the high/low switch, swap between the Keeley Red Dirt high gain setting; a gritty overdrive with smooth saturation, and the much cleaner White Sands transparent drive, which adds crispness to a mix rather than full-on distortion.
This side of the pedal is more straightforward when dialling in your sound, with simple level, drive and tone knobs. Whatever setting you apply, expect plenty of high-class clarity.
WATCH THE DEMO HERE