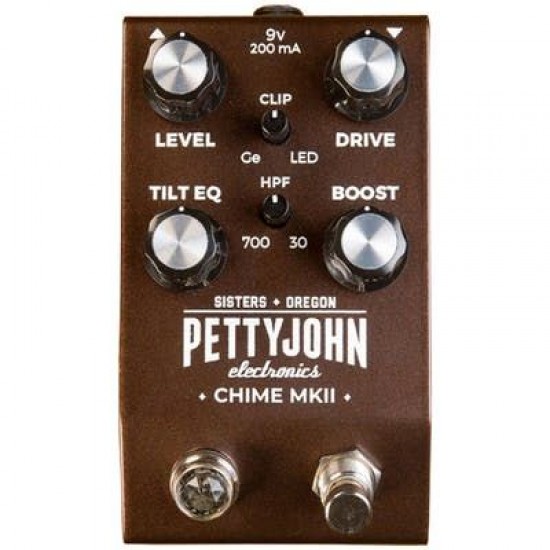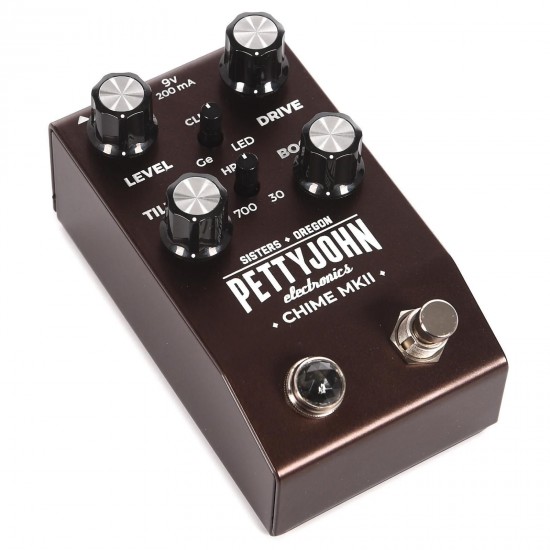 -20 % Out Of Stock


PettyJohn - Chime MKII Pedal

PETTYJOHN ELECTRONICS
Hurry, this offer ends in:
The Pettyjohn CHIME MKII is a major update to our signature low-medium gain overdrive. Since it's release nearly three years ago the CHIME has become our most popular pedal to-date and gained somewhat of a cult following. The CHIME has been loved for its ability to sweeten your signal with the touch sensitivity of vintage english amps on the edge of break up. The sweet saturation and harmonic excitement ends up being always-on for many players.

Let's start by saying everything we love about the CHIME has been preserved. Our team listened to feedback from players and dealers alike and then sharpened our pencils and set out to improve one of our favorite pedals. Through much toil we believe we have taken this pedal to the next level both sonically and functionally.
New Proprietary 36V Power Supply
We are possibly most excited to announce a new proprietary true 36V Power supply! This new, extremely robust power supply uses a standard 9V supply and delivers a huge 36 volts of headroom with up to 10 times the current as our previous version.
In short, this means the active electronics inside are running at their full potential, at their theoretical max safe operating level. As far as sound quality goes, high voltage means high headroom, which imparts an openness and 3D quality to the sound that sounds amazing and just feels great while playing. Now everyone can have the tonal experience of high headroom when they plug in the pedal, without the need for a special adaptor.
New Relay Based Quiet Bypass Circuit
The next major upgrade is our new relay based true bypass circuit with soft touch switch. We have had many requests for this and found it harder than expected to develop a relay circuit that met our quality standards. We are very proud of our unique design which accomplishes a very quiet switch via a sonically transparent gold contact relay. It even auto-bypasses when the power is disconnected. We designed this to be an upgrade to our current version one pedals as well and the new relay switch will be available to customers on our website.
Mini-Pots, Lower Noise, Active Level Output Control & More
While the core CHIME circuit has been preserved, we looked at every part of every stage to see if there was anything that could be improved. We removed the mini toggles and upgraded to mini pots for full control over the clipping range and sweepable High Pass Filter (HPF; i.e. Low Cut). We lowered the noise, increased the headroom of every stage and extended the frequency response to be a bit wider. We also added our active level output control which allows for no tone loss when adjusting the output level. The main gain structure and tilt EQ with orange drop caps has remained unchanged.
Full Unique Features
New! High voltage power! 36 Volts of internal power from standard 9v adaptor (300mA)
New! Relay Quiet Bypass switching system
Soft touch switch with totally quiet switching and auto-bypass when power is off
New! High Pass Filter mini knob
New! Clipping mix knob, blend between Germanium and LED clipping
New! Increased headroom and lower noise on all stages
New! Active output level control for no tone loss
New! Discrete Opamp upgrade option. Upgrade to CHIME MKII Deluxe and the input and output stages become powered with our Studio Grade 990 style discrete opamp for extra clarity and depth
New! Knobs and Labels. Easier to read on stage
New! Foundry Series MKII custom enclosure with in-set screws
New! Internal "Secret Settings"
Preamp Mode: Internal mini toggle bypasses the clipping stage making the CHIME MKII a perfect clean tone shaping preamp and boost with no clipping at all.
Power Rails Switch: Internal mini toggle switches between max rails of 36V and a more modest 28V, a setting some users prefer for a more vintage tone.
Gain range for warm saturation
Boost: Pre-boost control with that adds extra presence and grit
Tilt EQ: An audiophile approach to tone control, the Tilt EQ circuit is carefully voiced to compliment the clipping options and utilizes Orange Drop tone caps for a musical sweetness not normally found in a pedal.
Audiophile, Studio-Grade Performance
Burr Brown OPA input and output buffer
Classic TL072 and JRC4558 stages carefully implemented for warmth and feel
Audiophile grade, through-hole 1% Metal Film resistors

Top Shelf WIMA and Silver Mica caps used in tone sensitive operations
Internally Direct Coupled stages for purest signal path possible
Lead-Free PCB constructed with Audiophile Lead-free Silver Solder

Extremely Low Noise
Product Details
Box and circuit handmade in the beautiful Pacific Northwest, USA
Dimensions: 2.75"W x 4.75"L x 2.5" H
Weight: 2 lbs
WATCH THE DEMO HERE