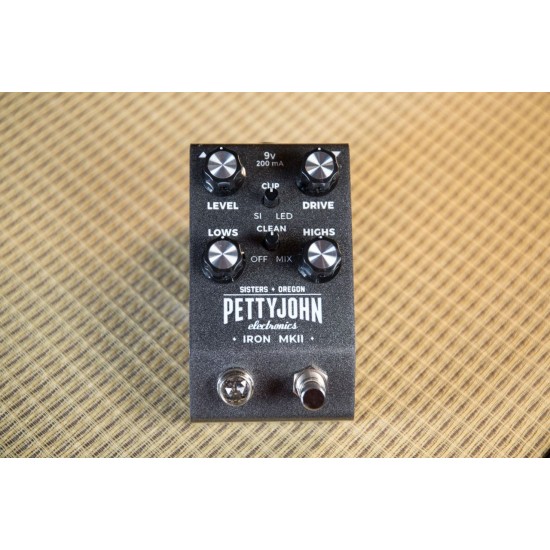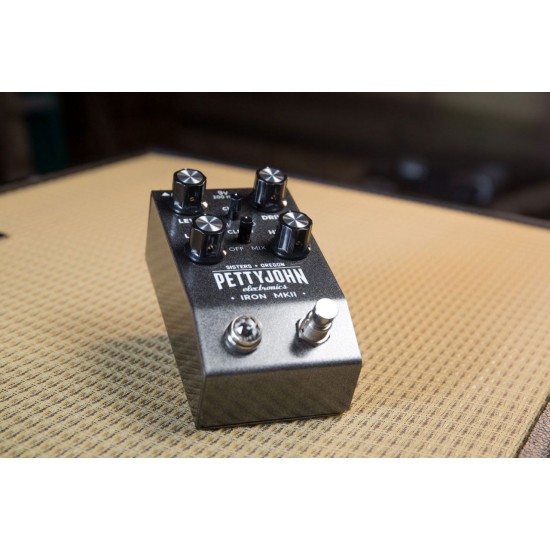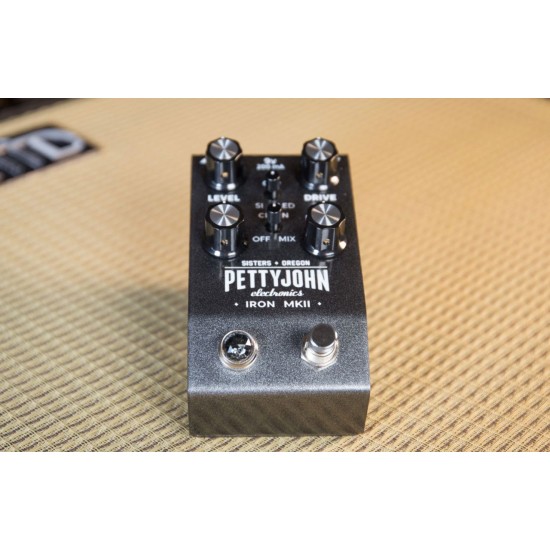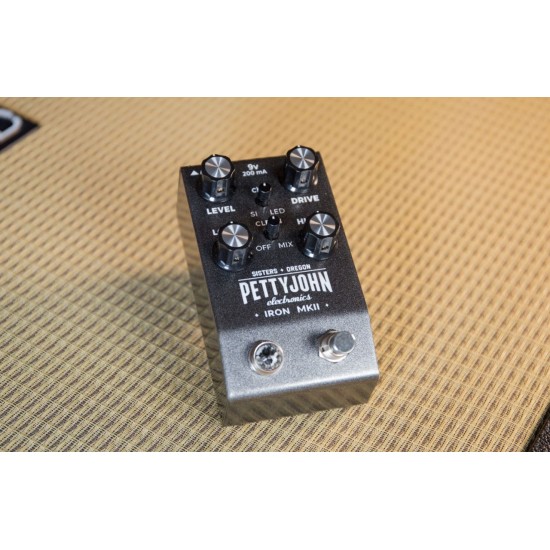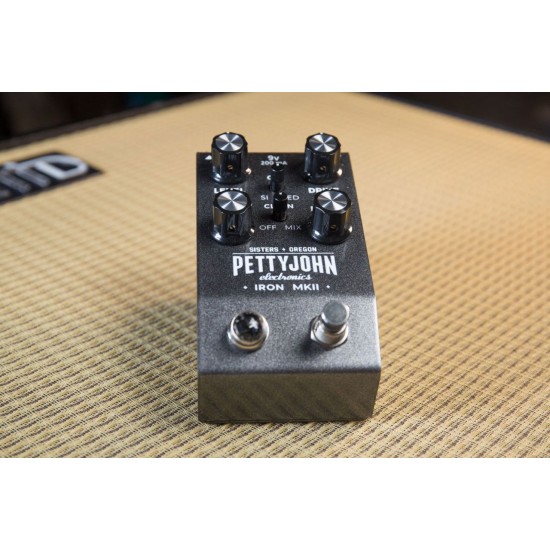 Out Of Stock





PettyJohn - Iron MKII Pedal

PETTYJOHN ELECTRONICS
The Pettyjohn IRON MKII is a full re-work of our classic medium gain overdrive. Below is a deep-drive into the features of the IRON MKII.
All New EQ
We sharpened our pencils and set out to improve one of our favorite pedals. We decided to start by vastly increasing the frequency range of the pedal. The original circuit had a decent amount of built-in filtering and relatively limited tone shaping tools, which in some rigs could be too dark. We redesigned the whole pedal for full audio frequency response, 20Hz to 20kHz. To compensate for this extra range, we added our signature wide-range sweepable Low and High cuts, giving the user complete control over the tone!
The LOWS control sweeps at 6dB per octave from sub frequencies to 1kHz allowing the user to precisely set the low-end profile. Furthermore, the low cut is pre-overdrive stage so the way it is set greatly impacts the way the overdrive circuit loads and clips.
The HIGHS control is a similar sweep from the other side of the frequency spectrum ranging from 20kHz down to 1kHz. The HIGHS control utilizes a genuine Orange Drop capacitor that has been selected for its classic, smooth tonal qualities, i.e. MOJO!
We also offer a custom shop modification to the HIGHS control which give several other "flavors" by exchanging this Orange Drop capacitor for other types of capacitors. Tune your highs to be more clean and punchy with the WIMA MKP10 mod or more transparent and open with the Audiophile mod. These mods have a subtle but noticeable effect on the tone and feel of the highs, especially at higher overdrive levels.
More to Gain
We also expanded the gain range making the IRON MKII much more versatile. The lower gain range has been extended, giving more settings akin to preamp or clean boost without overdrive. The GAIN control now tops out with almost 2x the original gain amount!
With the greatly extended controls and gain range the IRON MKII can satisfy almost player in a wide range of applications. Whether looking for an always-on low-gain sweetener, fully overdriven, thick rhythm playing chords or soaring, classic leads this pedal has something for everyone. Through much toil we believe we have taken this pedal to the next level both sonically and functionally.
High Voltage
We have also updated the IRON MKII with our new proprietary dual rail power supply offering an industry leading 36 Volt swing from a 9V, 200mA standard adaptor. As far as sound quality goes, high voltage means high headroom, and 36v is the maximum level most opamps are designed to operate safely at so the high quality opamps are operating at maximum potential.
High headroom and high voltage imparts an openness and 3D quality to the sound that sounds amazing and just feels great while playing. Now everyone can have the tonal experience of high headroom when they plug in the pedal, without the need for a special adaptor. There is also an internal switch to reduce the power rails to a cool 20 Volts, offering a bit more sag and vintage vibe for players who love that sound!
Clip Blend
Continuing the trend we started with the CHIME MKII, we have replaced the mini toggles with mini pots for extended sonic control. Now you can use the CLIP mini pot to blend between lower headroom Silicon diodes and a pair of Red LED with higher headroom before clipping to accomplish the perfect amount of saturation and drive at any gain setting.
Use the internal switch to change the silicon (SI) settings from asymmetrical (lifted from the IRON V1) and symmetrical silicon diode for even lower headroom and more grit.
Further dial your clipping tones by selecting from our two new clipping mods. The Fuzz Head mod offers Germanium diodes or slam in some brand new quantum tech with the Nanolog N2! It gives tube-like, smooth distortion from a unique solid-state device based on vacuum-deposited Carbon. Designed to be used in place of the usual silicon or germanium diode pair, the N2 is like having a pair of vacuum tube diodes in the loop offering dynamic, open, and warm tones. Want to nerd out more? Check out the full spec of the Nanolog's N2 device.
All New Clean Mix
We fully re-designed the CLEAN mix circuit on the IRON MKII. The control is now on the lower mini pot and well marked. When it is OFF, there is no clean mix active. As you roll the pot clockwise towards MIX setting it effectively pushes a fader up on a parallel clean signal. Blend in until the feel is just right, perfect for adding organic tone and feel to the overdriven signal or thicken a clean boost signal.
This feature really comes in handy when using the IRON MKII as a second or third stage drive, as using the clean mix allows the character of the previous overdrive pedals to still come through while also adding the overdrive of the IRON MKII in parallel. This helps avoid the "clamped" or "constricted" sound many people experience when stacking drives.
Quiet Bypass Switching System
The IRON MKII comes with our new relay based true bypass circuit with soft touch switch. We have had many requests for this and after a deep research and development cycle have designed a relay circuit which mets our demanding quality standards. We are very proud of our unique design accomplishing a totally quiet switch via a sonically transparent gold contact relay. It auto-bypasses when the power is disconnected, never leaving you in the dark!
Hardwire, classic true bypass is available via custom order options above for players wanting looper operation, however, this option does not offer a soft switch nor our quiet switching system.
Unique Features
New! High voltage power! – 36 Volts of internal power from standard 9v adaptor (200mA)

New! Relay True Bypass switching – Soft touch switch with totally quite switching and auto-bypass when power is off

New! HIGHS and LOWS wide range sweepable filters

New! Clipping mix knob, blend between Silicon and LED clipping

New! Increased headroom and lower noise on all stages

New! Active output level control for no tone loss and clean boost power

New! Discrete Opamp Upgrade Option – Upgrade to CHIME MKII Deluxe and the input and output stages become powered with our Studio Grade dual 990 style discrete opamp for extra clarity and depth

New! Knobs and Labels – Easier to read on stage

New! Foundry Series MKII custom enclosure with in-set screws
Audiophile, Studio-Grade Performance

Burr Brown OPA input and output buffer

Audiophile grade, through-hole 1% Metal Film resistors

Top-shelf WIMA and Silver Mica caps used in tone sensitive operations

Lead-free PCB constructed with Audiophile lead-free silver solder

Extremely low noise
Product Details
Box and circuit handmade in the beautiful Pacific Northwest, USA

Dimensions: 2.75"W x 4.75"L x 2.5" H

Weight: 2 lbs
WATCH THE DEMO HERE