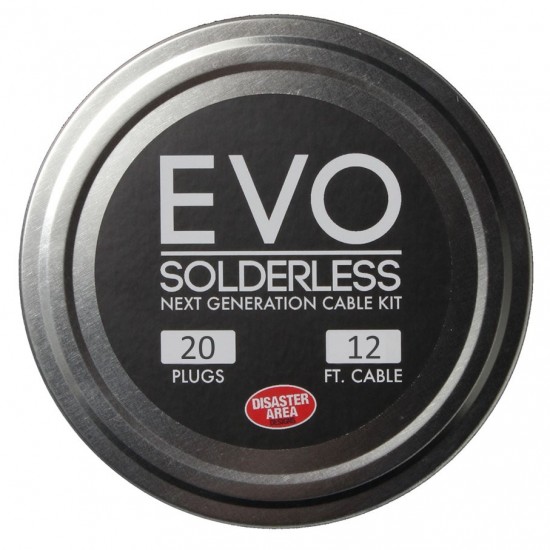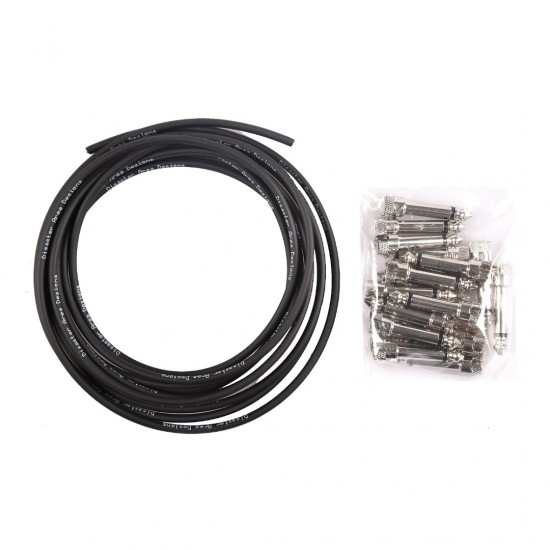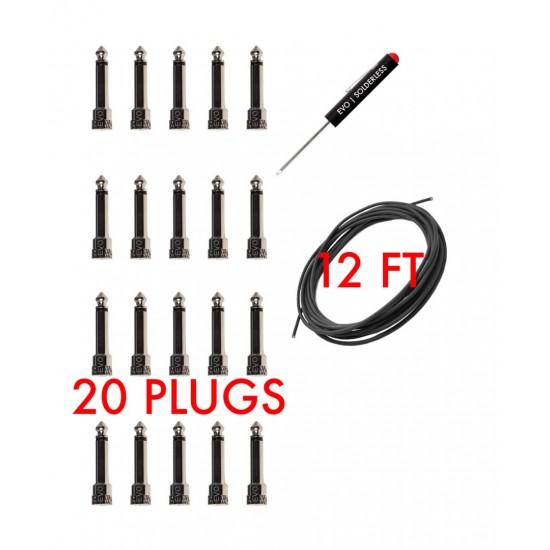 Out Of Stock


DISASTER AREA - EVO Solderless Cable Kit - 2012 KIT (BLACK)

DISASTER AREA
Have some solderless cables already? No problem! EVO plugs and cable are compatible with DisasterPlugs, BTPA solderless, and G&H B52N.
The EVO cable also works great with George L's plugs (right angle and straight.) Due to tight tolerances in our plugs we don't recommend using EVO plugs with George L's cable.
Of course, a pedalboard cable system is only as good as its cable — and EVO Solderless delivers. Our low-capacitance cable won't load down your guitar signal and is made in the USA to our exacting specifications. The cable measures 0.150″ / 3.85mm in diameter for ultra-tidy cable routing. It features an oxygen-free copper core for excellent signal transfer and a conductive inner shield to reduce microphonics.
We're not going to resort to wild claims about our cable kits. They're small, they work well, and they're designed to be easily assembled and reassembled any time you need to make a change — without tearing up your thumbs.
Our standard 1010 kit contains ten (10) solderless plugs and ten (10) feet (3m) of high-quality cable. That's enough to make 5 cables, or to connect six pedals in a standard series arrangement.
If you're using one of our loop switchers, you'll need more plugs! To make things easier, we have some special kits for use with loop switchers.
1010 kit – 10 plugs, 10ft. of cable. Suitable for small to medium pedalboard setups with up to six pedals. Makes 5 cables.
2012 kit – 20 plugs, 12ft. of cable. Suitable for DPC-5, Boss ES-5 or other 5-loop switcher. Makes 10 cables for 5 loops.
EVO Solderless Cable Kit Features:
Ultra-compact Solderless Plugs 0.4″ / 10.24mm dia. x 0.435″ / 11mm long handle size
Allows for higher connection density / more pedals on your board
Plugs lock into straight or angled configuration (patent applied for)
Simple connection, requires only a screwdriver (included)
Ultra-flexible cable measures 0.150 / 4mm diameter
Cable is extremely low capacitance – only 37pF / ft.
24AWG oxygen-free copper core is larger than competing solderless cables
Semi-conductive inner shield reduces microphonics
Stranded center cable is more flexible and less prone to breakage than solid-core cables
Kit includes 10 plugs and 10 feet of cable, enough to make up to 5 patch cables
Assembled in the USA from foreign and domestic components. Cable made in USA.