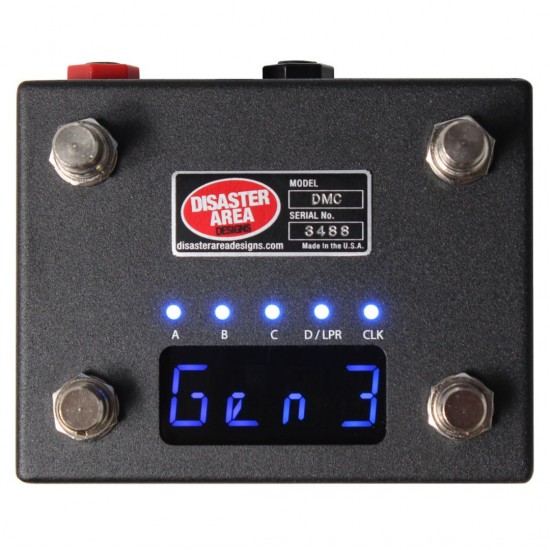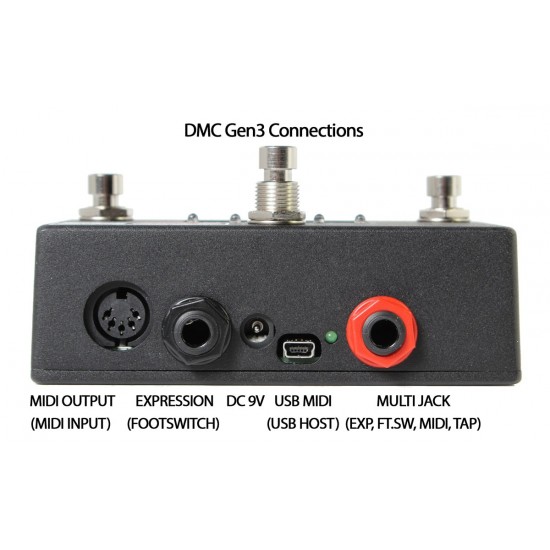 Out Of Stock


DISASTER AREA - DMC-4 Gen3

DISASTER AREA
The DMC-4 Gen3 is the next generation compact MIDI controller from Disaster Area. We've added lots of features, connectivity, and capability, making the DMC-4 Gen3 a next-level upgrade for your pedalboard control needs.
— What's New in Gen3 —
More MIDI Control – Control up to four MIDI devices plus any combination of Disaster Area pedalboard switching systems. Note that enabling any of the looper modes will disable control for the fourth MIDI device.
Improved LED Indication and Display – We've moved the LEDs to the center of the pedal, putting all of the info you need in one place. The LEDs now show the bypass / engage status of the individual MIDI devices, the looper state, and the clock or tap tempo rate. The display has also been upgraded, and now features full alphanumeric capability. Both display and LEDs may be dimmed in the setup menu to suit indoor or outdoor venues. Each user preset may be assigned a unique 8-character name, which will scroll on the display when the preset is loaded.
Built-in SMARTClock – The DMC-4 Gen3 adds in support for sending MIDI Clock or tap tempo to your connected devices, without any additional hardware. Our innovative MultiJack connector can operate as an expression pedal input, tap tempo footswitch input, MIDI output, or isolated tap tempo output. The DMC-4 Gen2 can send either a global tempo / BPM for all presets, or a new tempo / BPM for each preset.
User-Definable CC Command Mode – Based on customer requests, we've added the CC mode that allows the user to define any two commands for the left and right footswitches. Send one-shot, momentary, or toggle CC messages, MIDI notes, or change banks on your Strymon devices in this handy mode. (requires firmware v1.01 or higher!)
Optional gHOST Compatiblity – The DMC-4 Gen3 can control an external USB-MIDI device including the popular Zoom MS-50G, MS-60B, and MS-70CDR using its native USB port. Connect your USB-MIDI device to the DMC-4 Gen3 USB port through our gHOST adaptor, set the USB mode, and you're all set! The DMC-4 Gen3 can power most USB-MIDI devices, but please note that the power supply you're using must be sufficient to power the DMC plus the connected device. Powering a USB device may require as much as 500mA, so be sure your power supply can handle the load.
Separate Expression and Roller Configuration – hundreds of players all over the world are in love with the expression rollers on their DMC-4 Gen2 controllers. It's a great way to add expression control without giving up valuable pedalboard real estate, but in the Gen2 the roller and expression input are connected so that you can only use one at a time. In the Gen3, we've given the roller its own input channel, so that you can assign it independently from the expression input.
MultiJack – we've brought the MultiJack over from the SMARTClock, but we've taught it some new tricks! Now it can function as an expression pedal input, tap tempo footswitch input, or a second MIDI output by connecting the Disaster Area TRS to MIDI Adaptor Cable. You can use our TRS Control Cable for Chase Bliss Audio to connect your Tonal Recall, Warped Vinyl or other Chase Bliss pedal for full MIDI control. Want more? Flip the DIP switches inside the pedal and the MultiJack can act as an isolated tap tempo output to your non-MIDI gear. Any of the pedals listed over on the TNT or SMARTClock pages can be controlled by the MultiJack.
MIDI Input and Output – the 5-pin MIDI jack on the DMC-4 operates as a MIDI output, of course, but if you connect the Disaster Area MIDI Y-Cable, you can also send MIDI in to the DMC-4 Gen3. Want to connect your old DMC Gen2 to your brand new Gen3? No problem! How about sending MIDI clock into your chain from a drum machine? Sure, that'll work.
Easy Firmware Update – no more driver installation, app downloads, or weird Windows errors! Simply hold the mode button and plug in your DMC, and it shows up on your desktop as a flash drive. Drag and drop the new firmware over and you're all set! (Mac folks will have to type three keystrokes, but you can handle that!) And our new 32-bit processor has more than eight times the available power of the Gen2 family. We'll be adding support for more devices and more features as you request them!
LEARN MORE HERE