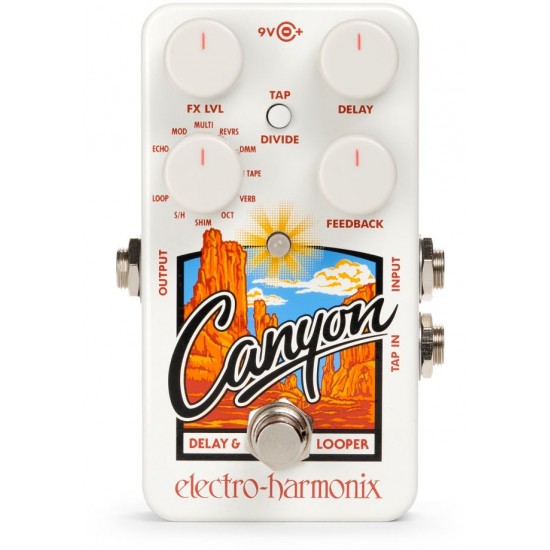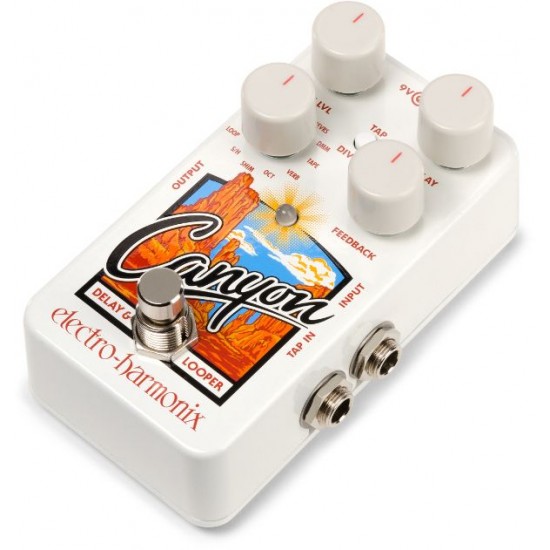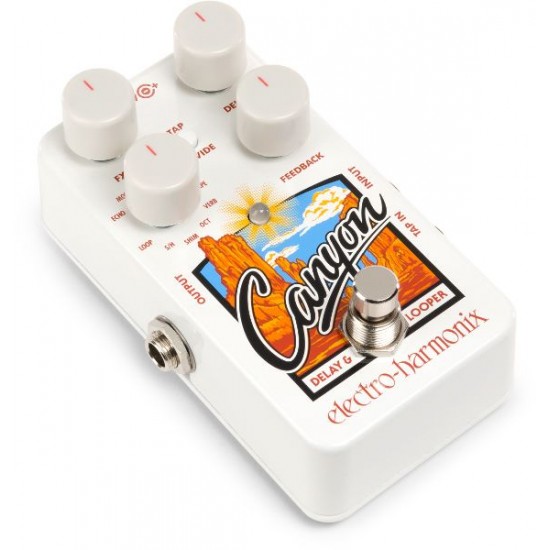 Out Of Stock



Electro-Harmonix - CANYON - DELAY & LOOPER

ELECTRO-HARMONIX
The Canyon delay is a powerful delay unit in a small box made to compete with pedals twice it's own size.
It's got 9 different delay types on-board meaning you can nail a variety of different delay styles. You can use the It's got octave delays and shimmers on there for those that want to create a bed of sound but also has the simpler Tape and Echo delays for more traditional players.
The 3 controls make it easy to find a delay to your taste with the Level control for the volume of the delay and the feedback to determine how many repeats you'll have.
On-Board Looper
The looper on-board means you can record yourself playing, with overdubs and practice playing over the top. It's a fully functioning, single button looper as well as being a powerful delay. Though you can't use the delay function when in Looper mode.
Here's what Electro Harmonix say about the Canyon
Packed with more power than pedals taking up more space, the compact Canyon delivers a dizzying array of effects.
From immaculate digital delay to warm and warbly tape echo, reverse and modulated delays, cascading octave delay and shimmer.. we've even included an exquisite Deluxe Memory Man emulation.
There are ten different effects in all plus a fully featured looper. Internal or external Tap Tempo with tap divide and a chasm full of intuitive secondary knob controls deliver a truly grand experience.
Features 11 modes:
1. ECHO: digital delay
2. MOD: modulated delay
3. MULTI: multi-tap delay
4. REVRS: reverse delay
5. DMM: Deluxe Memory Man
6. TAPE: tape delay
7. VERB: reverb plus delay
8. OCT: octave delay
9. SHIM: shimmer
10. S/H: sample and hold
11. LOOP: looper mode w/max loop length of 62 seconds
Specifications
Delay time of 5 milliseconds to 3 seconds
Tap Tempo with tap divide using the built-in footswitch or an external footswitch
Tails switch allows you to choose whether echoes repeat or stop immediately when the pedal is switched to bypass
Easy access to "hidden" parameters thru Secondary Knob Mode
Comes with a standard EHX 9.6DC200mA PSU
Dimensions in inches: 2.75 (w) x 4.5 (l) x 2.1 (h)
Dimensions in mm: 70 (w) x 115 (l) x 54 (h)
WATCH THE DEMO HERE