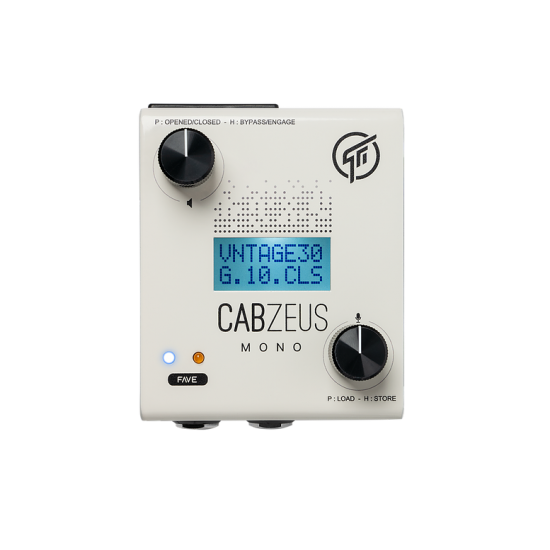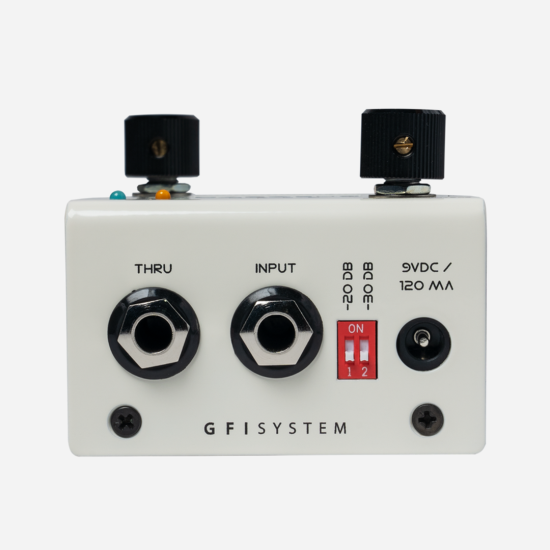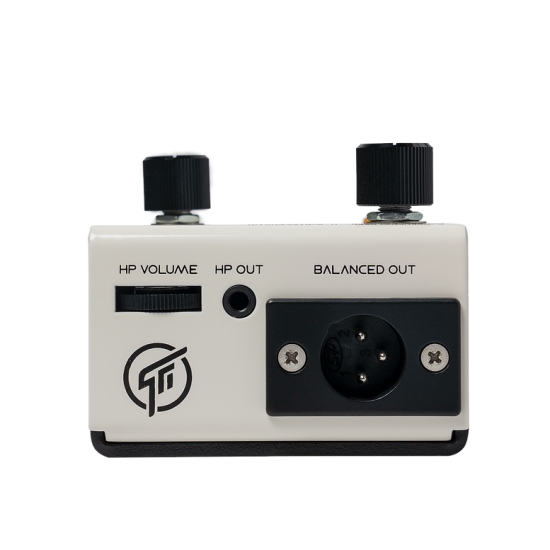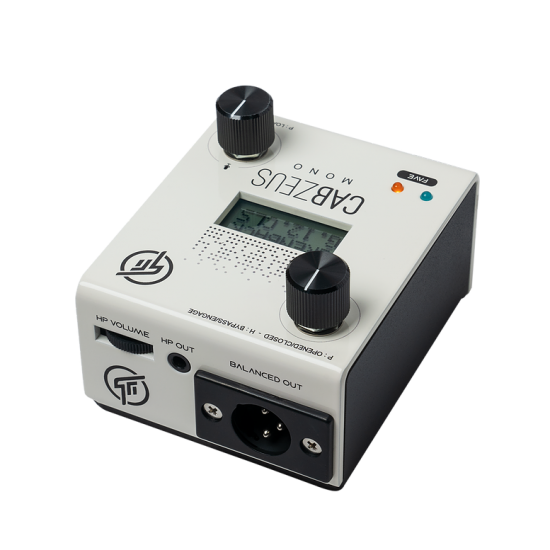 GFI SYSTEM - CABZEUS MONO - SPEAKER SIMULATOR + DI BOX

GFI SYSTEM
Cabzeus MONO is a compact yet powerful speaker simulator + DI.Box pedal. It was developed as a single channel version of its stereo big brother, Cabzeus. Cabzeus Mono offers 12 Speaker algorithms modeled after the real-life counterparts, each algorithms has 4 variations (speaker size and cabinet type), for a total of 48 sounds to select from.
Simple yet effective user interface lets you browse through the algorithm library and user presets with ease. The speaker simulation may be bypassed allowing you to use Cabzeus Mono as a straight forward DI Box.
Headphone Out
A headphone out with a dedicated volume control allows you to have a silent practicing session in the middle of the night. And to make your headphone listening experience more satisfying, despite only mono signal is available, we added a capability to insert an adjustable amount of short delay on the Right channel audio to widen the perceived stereo field.
Integrated DI Box
You can connect a wide range of input sources, ranging from your favorite stompboxes, preamps, your head amp's speaker out, to any music player (see Application Ideas). Its stereo balanced outputs are capable of driving long cables straight to mixing console or FOH speakers. These outputs are tolerant to phantom power, they will not be damaged by accidental application of phantom power.
Specification
Input impedance : 1 MOhm.
Output impedance : 300 Ohm.
Sampling rate : 48 KHz.
DAC / ADC resolution : 24 bits.
Current consumption : ~120 mA.
Weight : 0.45 Kg (0.9 lbs).
Dimension : 7.5 (L) x 9 (W) x 5.5 (H) cm
Power source requirement : 9VDC (negative center). Power supply is not included.
Key Features

Compact Speaker / Cabinet simulator + DI Box.
Ports : Input, Thru, Outputs (balanced - XLR)
2 Presets.
Input Pads : 0dB (unity), -20dB or -30dB.
Mic Position control.
Stereo headphone out with volume control.
Internal charge pump circuitry boosts 9V supply voltage to 18V for extended headroom.
WATCH THE DEMO HERE