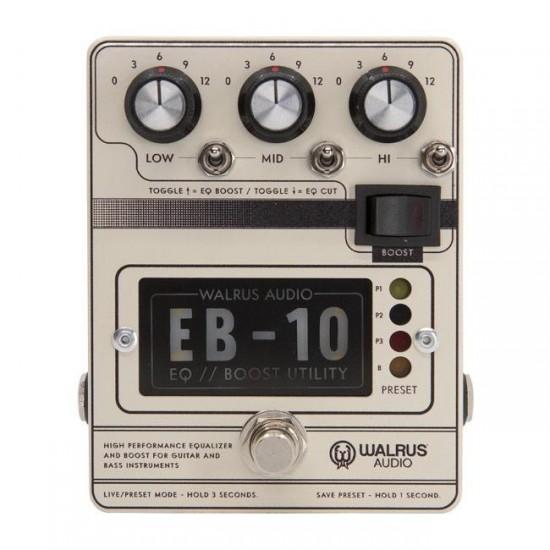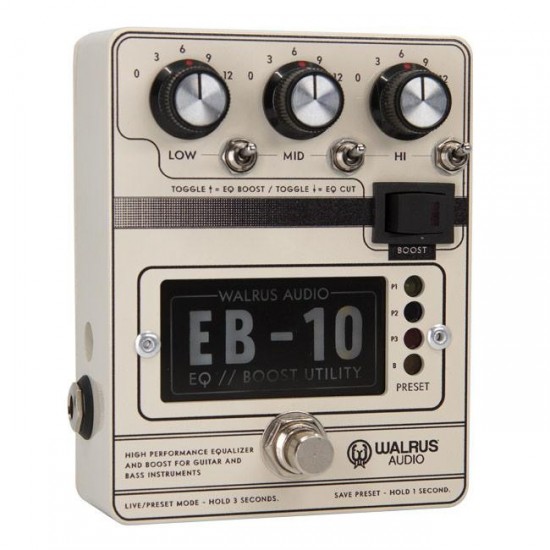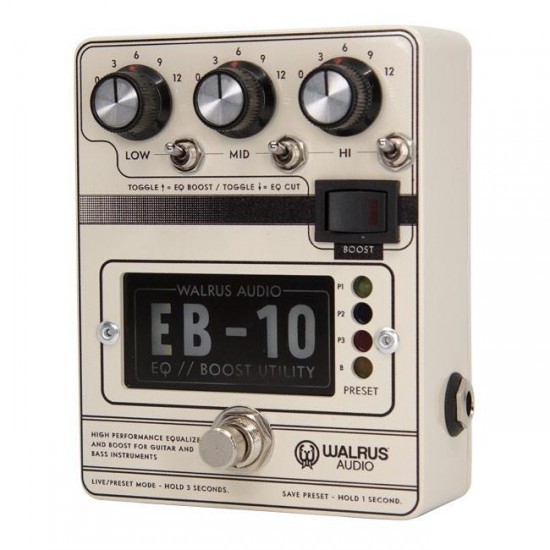 Out Of Stock



Walrus Audion - EB-10 - Preamp // EQ // Boost

WALRUS AUDIO
* Matte Black Finish.
A tone tweakers delight, the EB-10 works as a preamp, EQ and boost with three available presets to meticulously craft your guitar's sound allowing for studio-grade electric guitar tone in a live setting. Each rotary knob offers up to 12dB of boost OR cut of Low, Mid, and High frequencies, based on where you have the toggle switches set. When the Boost switch is engaged, add a 10dB MOSFET boost for some great extra punch.
Use the EB-10 to compensate when switching between low and high output instruments. Push through the mix during solos, or even use the onboard presets as three different gain stages by using combinations of increasing boosted EQ settings and the Boost switch! With nine different EQ positions on each knob, bring out new tonal characteristics you didn't know your guitar or bass even had.
The EB-10 offers two operating modes, "Live" and "Preset". In live mode, the pedal responds to current position of all the knobs and switches. Dial in a specific sound and turn the pedal on and off with the Bypass switch. In preset mode, the pedal offers preset slots to store three unique sounds. When in preset mode, the pedal is locked on and the user can scroll through the presets by clicking the Bypass switch. The pedal will boot up in the last known operating mode and if that is preset mode, it loads preset 1 by default. Enter preset mode by pressing and holding the bypass switch for 3 seconds until you see the preset light P1 turn on. Repeat to exit. You are in live mode when all preset lights are off. Refer to the manual on saving presets.
Specs
The EB-10 comes coated in Prismatic Powders, Matte Black and Cream enclosures with art inspired by vintage studio equipment. Design by Tyler Evans.
The die-cast enclosure's exact size is 3.68" x 4.67" x 1.547". Power requirements are 9VDC, center negative (100mA minimum).
The use of an isolated power supply is recommended for powering all Walrus Audio Pedals. Daisy chain power supplies are not recommended. Power supply not included.
WATCH THE DEMO HERE