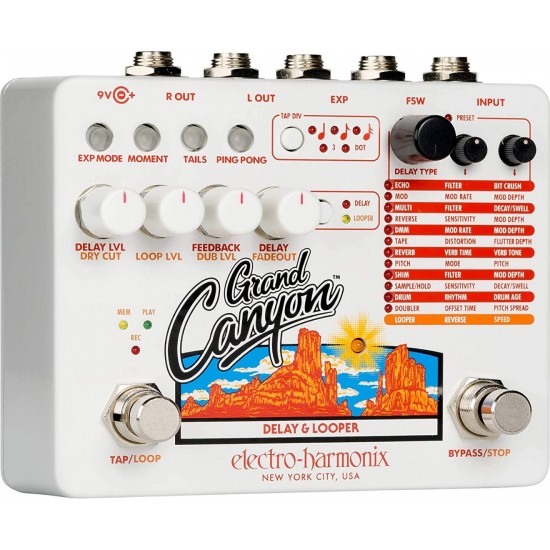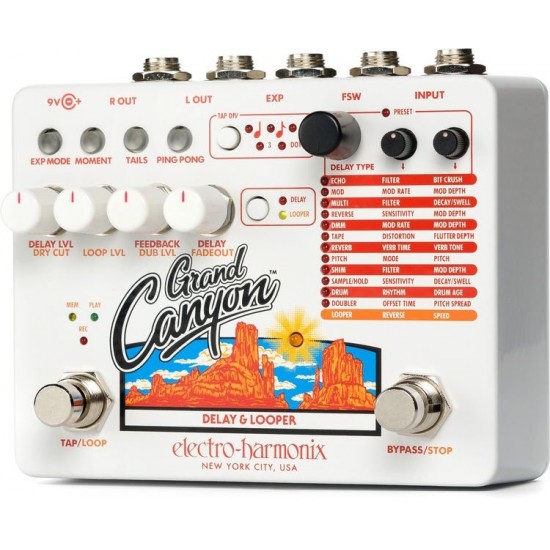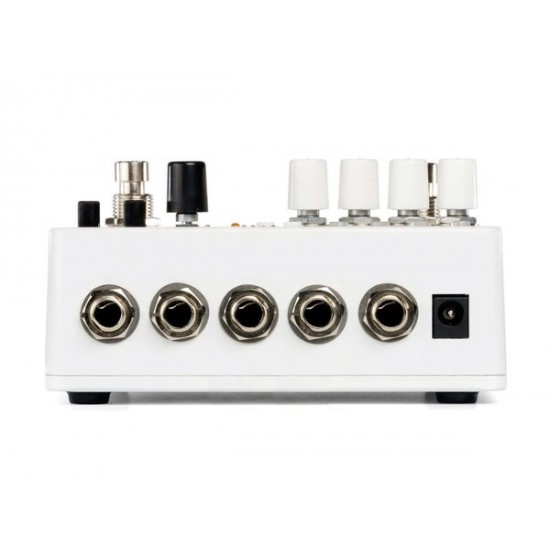 Out Of Stock




Electro-Harmonix - Grand Canyon - Delay & Looper

ELECTRO-HARMONIX
EHX's Most Powerful Delay Pedal Ever
With 12 effects types plus a full-featured looper section, the Electro-Harmonix Grand Canyon delay and looper pedal is one of the most comprehensive and creative delay pedals you could put on your pedalboard. Effects range from vibrant delays and echos to animated pitch effects, reverbs, sample/hold, and more. The looper provides up to 16 minutes of recording, and your looped audio remains until you clear it — even after you turn the Grand Canyon off. For more delay effects and looping capabilities than you could ever ask for, check out the Electro-Harmonix Grand Canyon delay and looper pedal.
Powerful delay pedal
At its heart, the EHX Grand Canyon is an incredibly deep delay pedal. With a twist of the selector knob, you can choose from 12 different delay effects, including modulated delay, tape-like delay, and even a Shimmer setting. The Tap Div button determines the rhythmic subdivisions you'll access by tapping out the tempo. And holding it down changes the function of the control knobs for deep editing parameters.
Onboard 16-minute looper
The looping effect onboard the Grand Canyon pedal is plenty for practice, songwriting, and even live performance. Simply pull up the loop function and step on the footswitch to start, stop, overdub, and erase your loops. And you can get up to 16 minutes of loop length, which is a ton of time for such a multifaceted effects device. Guitarists at Sweetwater especially appreciate the fact that your looped audio remains until you intentionally clear it, even if you remove the pedal's power supply.
Reverb and more
Electro-Harmonix didn't stop with delay and a looper. They also crammed a great-sounding reverb setting into the unit. When blended with the onboard delay, this setting is ideal for worship guitarists and other players who lean toward the ambient. And adding in a quick delay with low repeats instantly calls to mind the slapback tones of the 1950s. The reverb on the Grand Canyon sounds so good that it would be well worth the price of admission on its own.
Electro-Harmonix Grand Canyon Delay/Looper Pedal Features:

Time-based multi-effects and looper pedal for guitar, bass, and keyboards
13 onboard effects types, including tape, Deluxe Memory Man, and reverse
Looper function offers up to 16 minutes of loop recording
Tap Div button chooses rhythmic subdivisions for the tap tempo
Knobs also control secondary features such as modulation
On-the-fly tap tempo