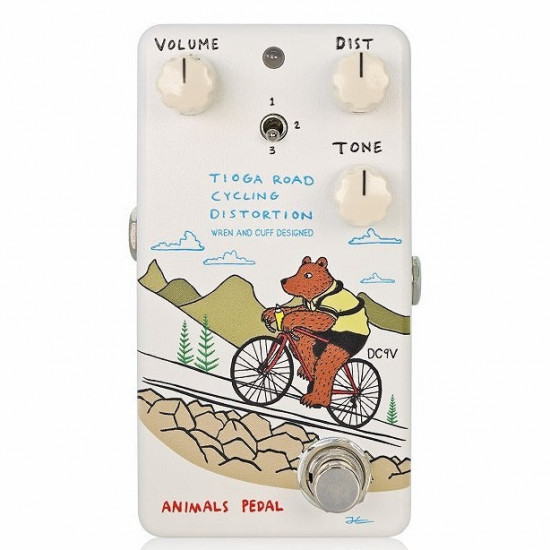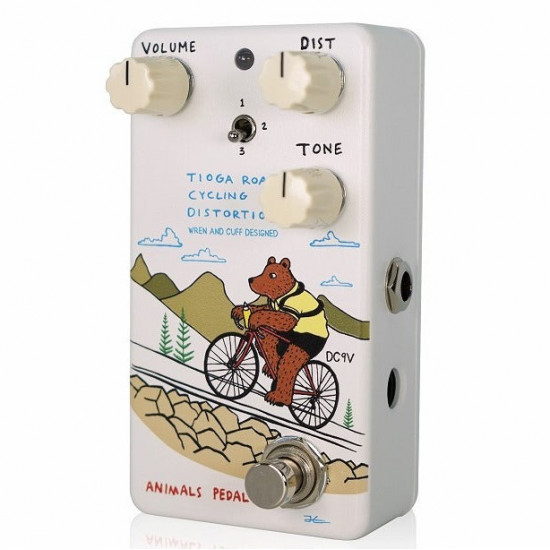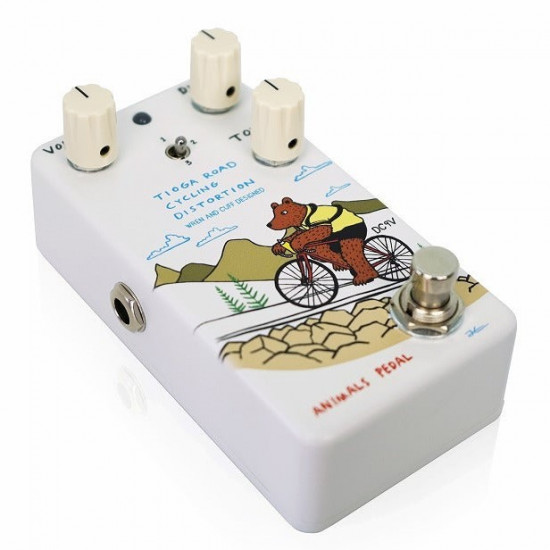 Out Of Stock


Animals Pedal Tioga Road Cycling Distortion

ANIMALS PEDAL
EXCLUDED FROM ANY COUPON CODE.

Animals Pedal rolls into town with an amazing distortion pedal designed by the famous design team of Wren and Cuff! The distortion sound is exciting for rock guitar, and with the various genres of heavier music has been a must-have pedal for many guitarists.
The first distortion pedals were made in the late 1970s, and really started being popular in the early 1980s. Our Tioga Road Cycling Distortion revives this classic distortion sound, as well as a few other speeds/sounds from that era and beyond.
Our new design places the footswitch to the front right side for ease of use, and it is easy to change the 9v battery inside. Our beautiful artwork is front and center as usual, with Animals Pedal expert manufacturing and high-quality parts construction. We have made some tweaks to the circuit which has been fine-tuned and expanded so that the TRCD can be used with a wider variety of guitars and amplifiers.
Wren and Cuff are a world-famous brand and design team from the USA who have created some of the most desirable pedals in the boutique pedal world. With this design, they are taking it straight back to 1984 with the sound of the earliest "big box" model distortion. And they didn't stop there – Tioga Road Distortion is not just a pedal that emits old sounds. Use the toggle switch in the center to change the texture of the distortion clipping, with selections of Symmetrical Clipping, Clipping Bypass, and Asymmetric Clipping. Each one will add a different texture to the sound, with an emphasis on rich low mids and enhanced frequency response.
Take it back to the 80s, take it to outer space, and take it to the stage/studio/practice space. The Tioga Road Cycling Distortion is a classic distortion pedal with a thick and nostalgic tone that can range from a light distortion to an all-out fuzz monster. Rock with the TRCD!
●Control
VOLUME: Adjusts the volume.
TONE: Controls the tone centered on high frequencies components. The high frequencies are strengthened clockwise, and the low frequencies are emphasized counterclockwise.
DIST: Adjusts the strength of the distortion.
Toggle switch: Switch the texture of distortion and volume.
・1 (Up position): Symmetrical clipping
・2 (Center position): Clipping bypass
・3 (Down position): Asymmetric clipping
Tioga Road Cycling Distortion adopts true bypass footswitch and is powered by a 9V battery or a standard center minus DC9V adapter.
●Specifications
Current consumption: 1mA
Input impedance: 500k
Output impedance: 10k
※When using batteries, please unplug the input jack to reduce battery consumption when storing the effector. Also, if you don't use it for a long time, please remove the battery and store it.
Animals Pedal × Wren and Cuff
Starting with the actual vintage distortion pedal Wren and Cuff carefully analyzes the circuit, reproduces it with overwhelming quality, and receives a well-deserved reputation in the effects world. They are known for the production of pedals that make you feel the depth of effector love, such as suddenly launching a crazy limited model and developing a new product full of humor saying "because I wanted to make it".
The joint development with Wren and Cuff's builder Matt has become a reaffirmation of this commitment.
Let's dive into the world of sound made by Wren and Cuff who know vintage pedals well!
WATCH THE DEMO HERE