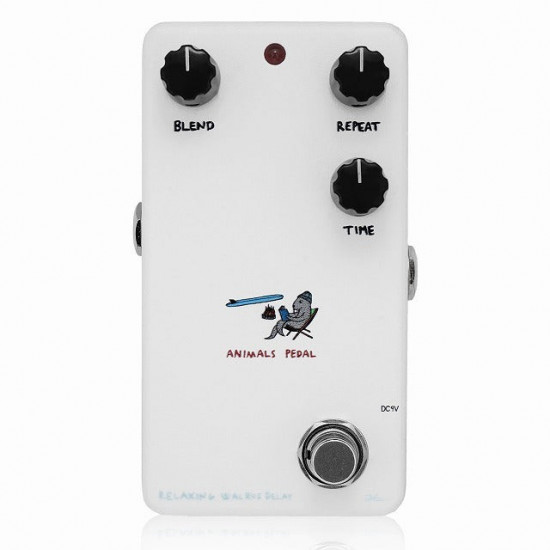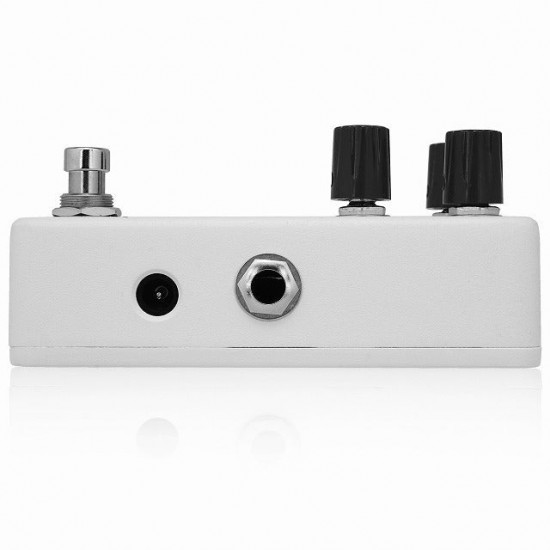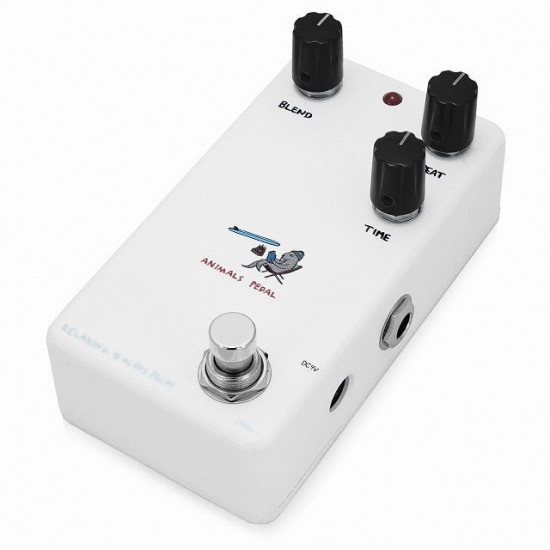 Out Of Stock



Animals Pedal Relaxing Walrus Delay

ANIMALS PEDAL
EXCLUDED FROM ANY COUPON CODE.

Animals Pedal Relaxing Walrus Delay is an industry-standard and easy to use delay pedal that is indispensable for adding some extra AWESOMENESS to your guitar playing!
The RWD sound is close to the vintage analog delays of yesterday, but with a modern clearness of sound and ease of use. You can dial in an exquisite natural reverberation tone that melts into the original sound by mixing with the BLEND knob, or you can crank it up for big spacious verbs. As many love, the Relaxing Walrus Delay can self-oscillate and "run-away" delay for tweaking fun – as well as tasty always-on style delay that rides just under your guitar signal. Of course, there are always transcendental long delay tones that recall vintage tape delay tones.
BLEND, TIME, and REPEAT are the simple controls to make your delay tones, and they are easy to use without getting lost in too many knobs or menus. Delay time ranges from 1-500ms, covering the range from reverb to double-tracking, short delays, medium, and long delays. It is one of the most useful effects to have on a pedalboard for most musicians.
Delay is called "Yamabiko" in Japanese (echo), and it repeats the same sound that you play into it and mixes both sounds together to create spatial spread and repeats. It is very similar to reverb in that both are a "delay" of the original signal. The delay's unique effect is a great help for guitarists to take their sounds to the next level.
Smooth Lead Tones with Depth:
When transitioning from rhythm backing to a lead solo, turning on boosters and distortions to bring your sound "forward" in the mix is very common. However, when you mix or record and listen to the band's performance, you may not be able to hear the lead solo as well as you thought due to the added gain or distortion. Using a delay pedal instead will add depth to the lead tone and have a clearly different presence from the rhythm tone. At the same time, the edge of the sound is rounded a little, making it easier to listen to and a smoother tone overall. The secret to using a delay like this is to reduce the REPEAT knob with a slightly longer TIME setting.
Always ON Delay:
When you listen carefully to the guitar sounds of professionals at live performances, you can often hear a slight delay. For example, the delay sound is effective when playing smooth rhythm parts with sustain and helps fill out the sound so that it never sounds empty or choppy. You can play long chords and lush washes of delay will help fill the gap between chords. This works well because it complements the sustain and allows the tails of the delay to fade gradually. Try to reduce the BLEND and TIME and set REPEAT to several repeats.
Rhythmic Delays:
The delay effect repeats your input sound over and over again, so you can take advantage of that effect to try "tricky play" – rhythmic delays that repeat in time with what you are playing. You can make it sound like there are THREE TIMES as many notes playing with "tricky play". Try using the BLEND set moderately at first to determine the correct TIME setting. One you have the correct TIME set for the tempo of your song, adjust the BLEND to match.
Self-Oscillation:
Self-Oscillation is a phenomenon that makes the sound coming from the delay effect louder and louder by setting the REPEAT knob on maximum, and you eventually will get a unique sound that sounds like ripping of shrieking. At this time, you can change the pitch, tone, and rhythm of the oscillation sound by adjusting the TIME knob – and you can create an entire sonic chaos playing guitar on top of this with other effects. WHEN YOU WANT TO STOP SELF-OSCILLATION, YOU CAN FADE IT OUT BY LOWERING THE REPEAT KNOB (WARNING!)
Jonas Claesson, a surf art painter active in Australia, created the design:
"I designed it with the image of a walrus that enjoys the early afternoon after surfing with the best camping trailer that everyone dreams of"
Current consumption: 35mA
Input impedance: 500k ohm
Output impedance: 10k ohm
WATCH THE DEMO HERE