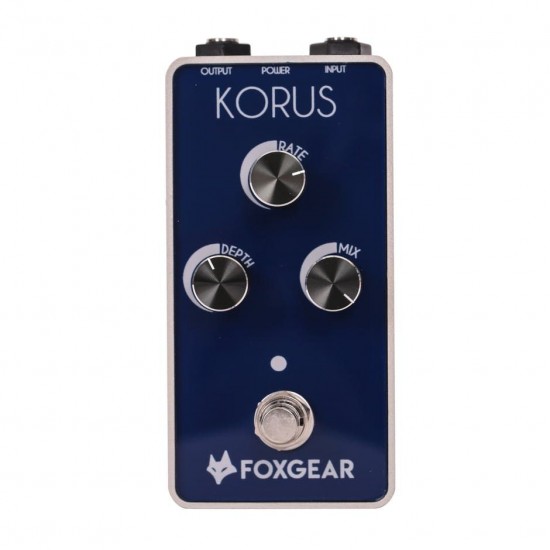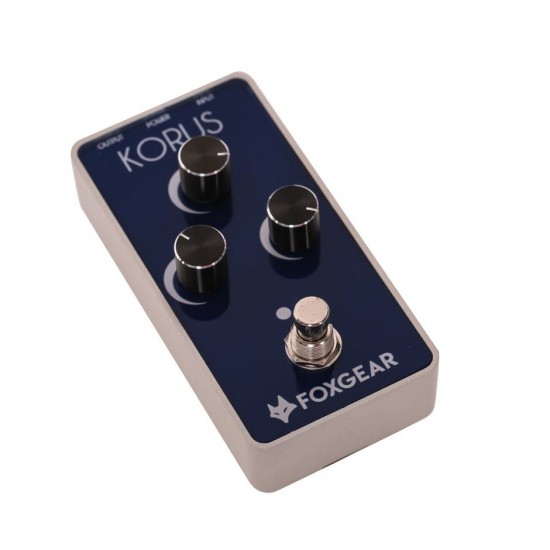 Out Of Stock


Foxgear - KORUS - Vintage Analog Chorus

FOXGEAR
Sound
Tone is everything. And the Korus delivers on all fronts. Three simple controls have excellent sensitivity, ranging from retro vibe to lush thickness without affecting your original signal.
Most cheaper pedals are constructed using SMD components, making it easy to install by machines. But all Foxgear pedals are carefully hand-built with non-SMD, true bypass circuitry and analogue design, ensuring completely transparent effects. All covered by a five-year warranty.
Conscious design
Clever internal layouts reduce the footprint of Foxgear pedals. You'll be able to fit four of these stompboxes onto a pedalboard when there's only space for three standard-sized pedals. Top mounted jacks make it easy to hook up into your signal chain. An acrylic faceplate lights up when the pedal is turned on so you'll see it on the darkest of stages.
About Foxgear
Foxgear were launched in 2017 by renowned Italian brands Gurus and Baroni-Lab. These pedals showcase the best construction respected engineers could have only achieved by working together. Designer Ugo Baroni and manager Chicco Bellini are constantly involved with researching, developing and working with professional musicians to ensure quality standards.
The Italian company are endorsed by some huge names. The likes of Steve Lukather from Toto, Adrian Belew formerly of King Crimson and Motorhead's Phil Campbell joined this new project to deliver exciting effects pedals.
Specifications
RATE: Set the speed of the LFO
DEPTH: Set the amplitude of the effect
MIX: Set the amount of effect applied on the clean signal
Power In 9 to 12VDC (negative TIP)
Consumption at 9V <100mA
Distortion (GAIN) max 2%THD
Width 60mm. (2,3")
Lenght 120mm. (4,7")
Height 30mm. (1,1")
Weight 0,2Kg. (0,4lbs)
WATCH THE DEMO HERE