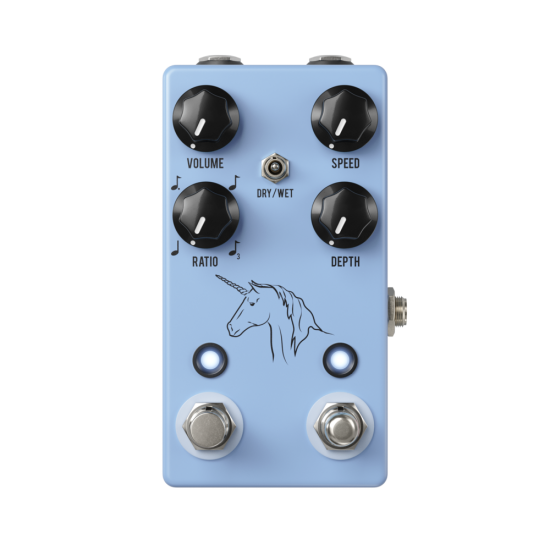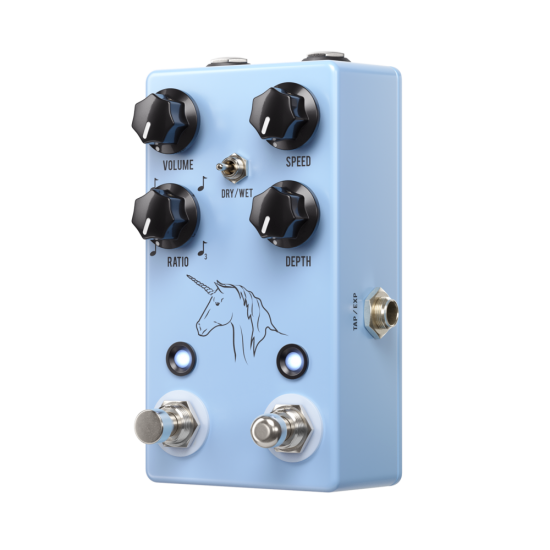 Out Of Stock


JHS - Unicorn V2 - Univibe / Vibrato

JHS PEDALS
The Unicorn is bursting with all the lush and washy pulsations that changed what the electric guitar could sound like in the 1960s. And this is no digital emulation. The Unicorn sports the real-deal, analog photocell topology of the original units.
- Sounds like the originals because it's built like the originals
- All-analog signal path delivers a warm, touch-sensitive tone
- Dry/Wet toggle selects between a Uni-Vibe* and vibrato effect
IN-DEPTH TEMPO CONTROL
There are other analog vibe pedals and there are pedals with tap-tempo control, but - if we're allowed to gloat for a second - the JHS Unicorn is the first to put 'em together. Add optional external speed control and a ratio knob that determines the rhythmic subdivisions or as we like to say, how much fairy dust enters into the flux capacitor of the Unicorn - and you have one of the most versatile vibe pedals on the market.
- Control the rate of the effect with the Speed knob or onboard tap-tempo footswitch
- Want quarter note, dotted eighth, or triplet rhythms? They're all found on the Ratio knob
- LED indicator notifies you of the effect's tempo, even when disengaged
EXTERNAL TEMPO AND EXPRESSION CONTROL
But wait, there's more! One of the things that makes the vintage Shin-ei* Uni-Vibes* so desirable is your ability to control the effect's rate in real time with an external expression pedal. How could we not include that!? And to go one step further, you can slave the pedal to other tap-controlled pedals for rhythmic consistency across all your effects.
- Internal Tap/Expression mini switch controls the side-mounted Tap/Exp TRS jack
- Expression pedal control of the Unicorn's rate in the Exp setting
- Use an external source to control the rate in the Tap Out setting (Works great with our Panther Cub Delay, Emperor Chorus pedals)
COULDN'T BE EASIER TO USE
One of the things we're most proud of with the Unicorn Uni-vibe* Photocell Modulator is how easy it is to dial up the exact pulse of a mystical Unicorn running across a field of 4-leaf clovers… but only if you dare.
- Four knobs and a mini toggle are all you need for a world of syrupy, modulated tones
- Left two controls are your tone, right two controls are your speed, toggle is your effect. It's that simple
WHAT'S NEW IN THE V2?
The original Unicorn sounds great and works perfectly, so we didn't change a thing about it other than: its now half the size, and its a lower price point!
When everything has been done and everything has been seen, we bring you a first ever 100% analog signal path Uni-vibe* Photocell Modulator w/ Tap Tempo.
THIS PEDAL REQUIRES STANDARD 9V DC NEGATIVE POWER, CONSUMES 100MA, AND MEASURES 2.2"X4.8"X1.6".
Download User Manual Here
WATCH THE DEMO HERE