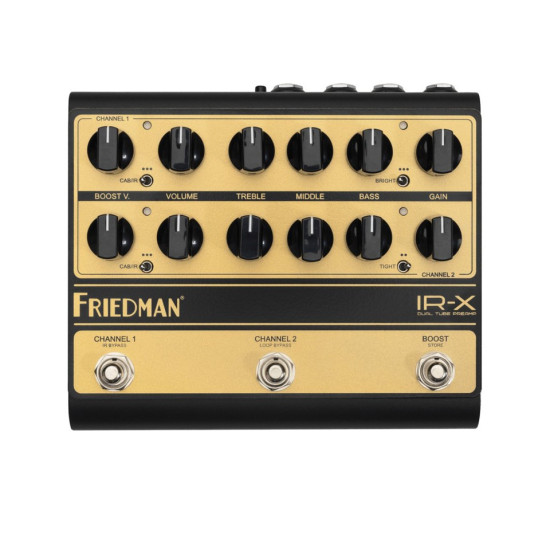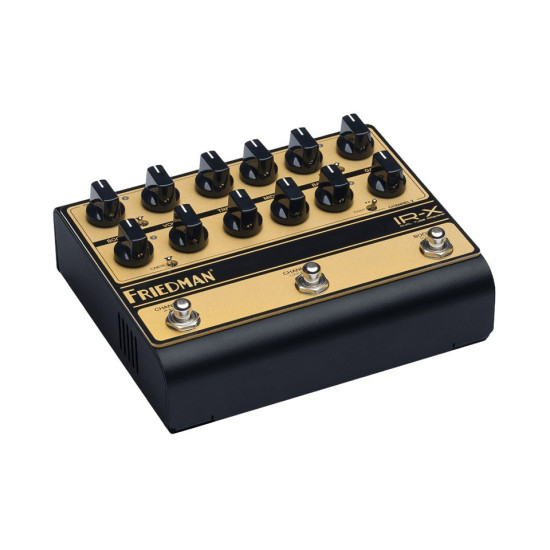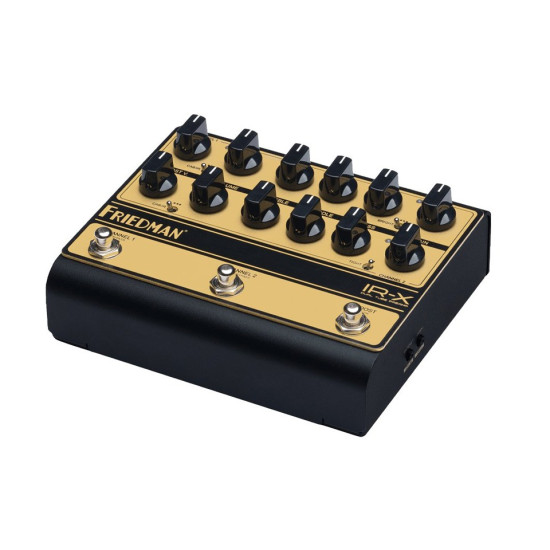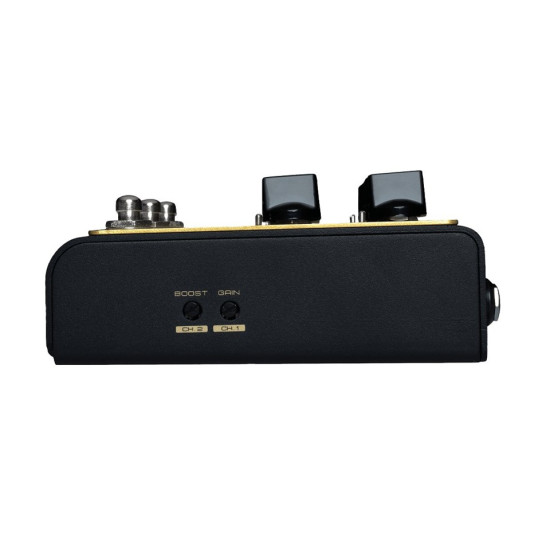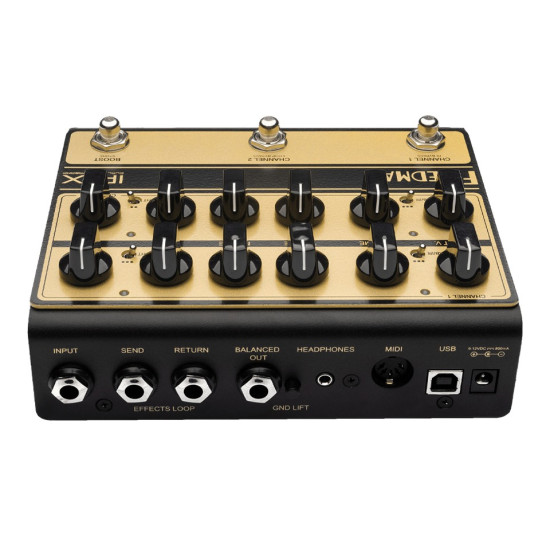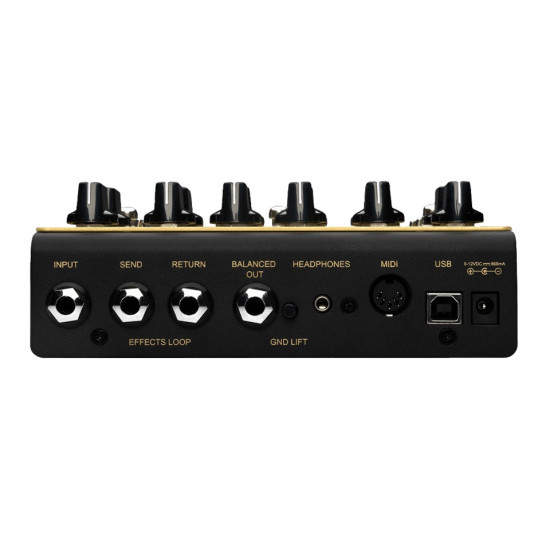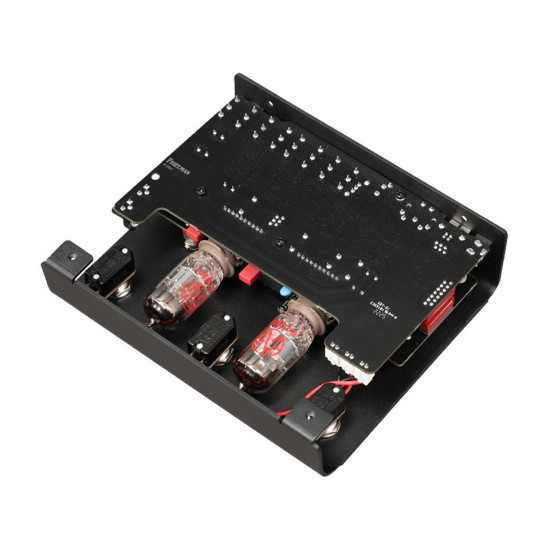 NEW Out Of Stock







Friedman - IR-X - Dual Tube Preamp & DI

FRIEDMAN
EXCLUDED FROM ANY COUPON CODE.

Dual Tube Preamp & DI – Simple All-Tube Direct Solution
ALL-TUBE PREAMP, IR TECHNOLOGY, COMPACT SIZE
The Friedman IR-X dual-channel tube preamp is an entire Friedman rig in a compact pedalboard-friendly package. Powered by two high-voltage 12AX7 preamp tubes, each channel delivers the harmonic richness and touch response of Dave Friedman's finest designs. DSP IR cabinet/power amp simulation sends a studio-quality mic'd-up tone to your DAW or Front-of-House. The IRX provides easy-to-use controls without complex menus and 100-page manuals.
DOWNLOADS:
IR-X EDITOR SOFTWARE - Apple MacOS 10.15 or higher
IR-X EDITOR SOFTWARE - Windows 7 64-Bit or higher
ALL-TUBE FRIEDMAN TONE
IR-X isn't simulating a Friedman tube preamp. It is one. While many available preamp pedals utilize tubes to 'warm up' their digital or solid-state circuit, two glowing hot 12AX7 preamp tubes, running at the proper high voltage, are this pedal's beating heart. A genuine preamp in every way, IR-X delivers all the tone, response, gain characteristics, and harmonic complexity you expect from a Friedman design.
2 INDEPENDENT CHANNELS WITH BOOST
IR-X boasts two fully independent foot-switchable channels. Like the famed Friedman flagship amps, channel one takes your tone from bluesy, British-voiced cleans to a muscular Plexi-style roar. Engage channel two for the Friedman signature higher-gain voice and all the percussive punch, note clarity and singing sustain that comes with it.
DUAL INDEPENDENT BOOSTS
Both channels feature their own independent and highly tweakable Boost circuits. This essentially gives you four channels, accessible with the tap of your toe.
IMPULSE RESPONSE CABINET AND POWER AMP SIMULATION
All great tube amps need a great speaker cabinet, and whether sending your signal straight to the board or silently playing through the onboard headphone output, IR-X gives you a selection of Dave Friedman's favorite IRs. Select the IR per channel using the 3-way mini toggle switches or load your own quickly and easily via IR-X's editing software. You can even disengage the onboard IRs entirely to use IR-X's tube preamp with another IR loader.
IR-X SOFTWARE EDITOR
IR-X gives you astounding tonal control, but its included Friedman IR-X Editor software takes it to a new level. With it, you can tweak each channel's power amp simulation via the thump and presence controls, load your favorite IRs, activate the Boost Lock feature, select loop ON/OFF and save it all to 128 MIDI presets.
12 FRIEDMAN CABINET IRS INCLUDED:
The IR-X software includes 12 free Friedman IRs to choose from. The first three listed below are the ones which are factory set to the hardware.
EXPANDED MIDI CONTROL
IR-X is MIDI-capable. Whether pulling up presets with a pedalboard controller or switching channels with the laptop running your entire show, IR-X is ready for the job. It truly is the perfect marriage of modern control and classic tube tone.
FLEXIBLE RIG INTEGRATION
The IR-X's transparent effects loop allows you to easily integrate your favorite effects with everything from the most straightforward setups to the most complex digitally controlled rigs.
IR-X INTEGRATION

ALL-IN-ONE
IR-X's surprisingly compact size turns your pedalboard into your entire rig. Run your favorite dirt pedals and filters directly into the IR-X's input as you would with any amplifier, and place your favorite time-based effects in the effects loop. Now send all that tone directly to the board with the stunning-sounding benefits of IR technology.
STANDALONE PREAMP
Do you want all the benefits of IR-X's all-tube preamp section but prefer a live cabinet onstage? No problem. Simply connect the effects loop Send to your time-based effects and then to your amps power section. You can still send the IR output to the console to avoid the hassles of live mic'ing the cabinet (see manual for details).
IR-LOADER
To utilize IR-X's IR technology independently of the preamp section, just plug your preferred preamp or pedals into its effects loop return. It's a great way to harness all of its power amp and speaker simulation onstage or in the studio.
FEATURES
All-tube HIGH-VOLTAGE preamp – DI
2 x 12AX7 preamp tubes
Two independent channels + boost
Channel 1 (Top channel) clean to gritty
Channel 2 (Bottom channel) high gain drive
MIDI programmable features:
Channel select / Boost
IR select
Thump and Presence – three-way switch per channel
Effects loop ON/OFF
Boost Lock
Power amp simulation with software editable Presence and Thump (per channel)
Low latency Impulse Response cabinet simulation (bypassable)
Three position CAB/IR select switch per channel (programmable via software)
12 free Friedman IRs or load your own
Boost Volume and Gain controls (per channel)
Volume and Gain controls (per channel)
Full EQ consisting of Bass, Middle, Treble (per channel)
3-way Bright switch (Channel 1)
2-way Tight switch (Channel 2)
Three multi-function foot switches
Ultra-transparent series FX loop (bypassable)
TRS balanced output
Headphone output
MIDI 5 pin standard connector and USB MIDI
USB software editor – powered by SYNERGY
Limited 3-year Warranty
Universal 12V Power Supply Included
6 Foot USB2.0 A Male to B Male cable Included
Dimensions (Including Knobs): 5.5" (D) x 6.5" (W) x 2.3 (H)
Weight: 1.5 lbs.
WATCH THE DEMO HERE