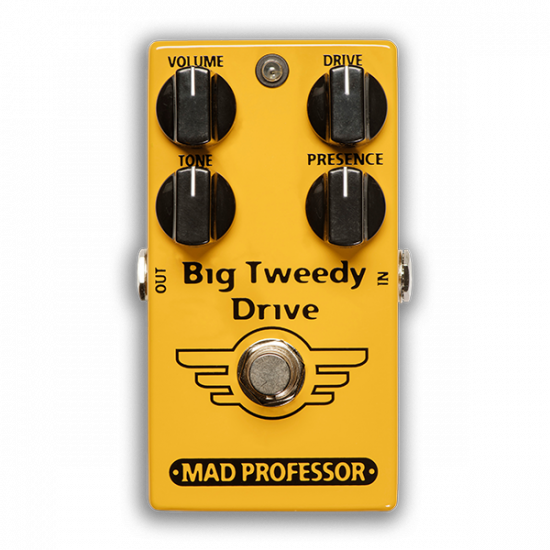 -15 %
Mad Professor - Big Tweedy Drive

MAD PROFESSOR AMPLIFICATION
Big Tweedy Drive will deliver the iconic snarly bite and the rich saturation of the late 50´s American amplifier.
Big Tweedy Drive pedal is voiced after a super rare High Powered Tweed Twin amp. The pedal gives you the highly sought-after vintage tone that has big fat punchy midrange and sweet gnarly bite like the late 50 ́s American amplifiers.
Like the big vintage tweed amps, the Big Tweedy Drive has the same tactile dynamics and touch sensitivity players are raving about: adjust the amount of gain with your picking attack or the guitar volume. This makes the pedal fit into a surprisingly broad range of genres: jazz, blues, rockabilly, country and rock ́n ́roll.
The pedal stacks very well too. So you can find the more saturated and higher gain tones by placing a booster or an overdrive in front of the Big Tweedy Drive for extra gain and sustain. Or you can place the Big Tweedy Drive in front of a clean amplifier or boost an already distorted amp.
The tone controls help you to fine-tune your tone when using the pedal with different guitars and amplifiers.The pedal cleans very well from the guitar volume pot and thanks to the finely balanced compression the volume level will be adjusted just the right amount.
WATCH THE DEMO HERE