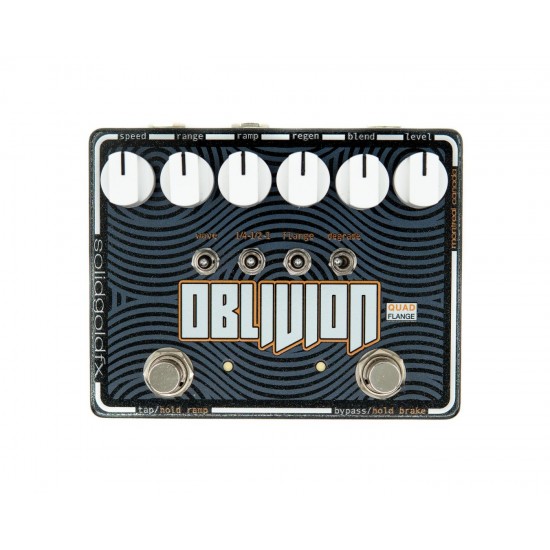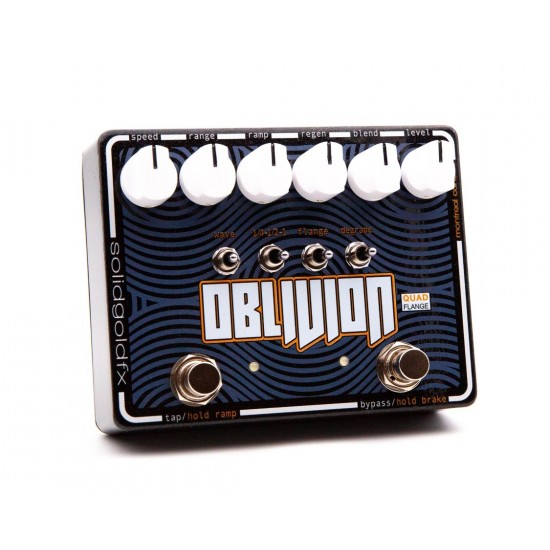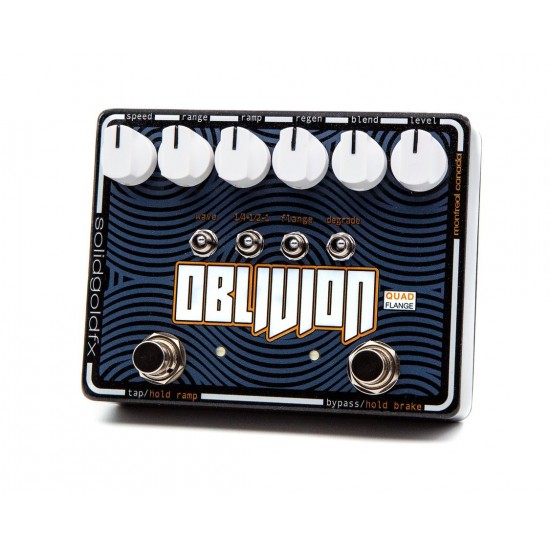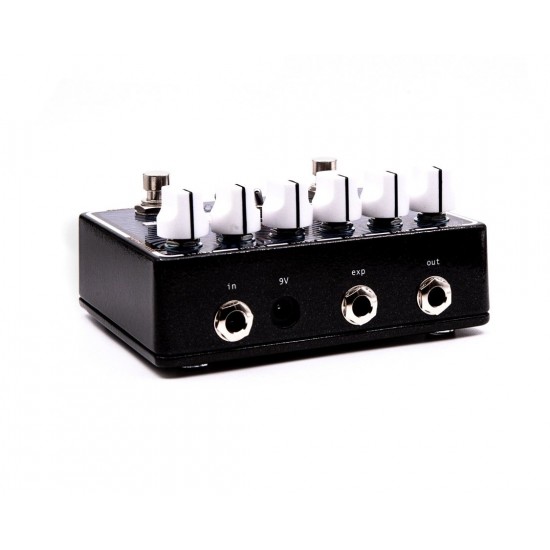 -15 %




SolidGoldFX - Oblivion - Quad Flanger

SolidGoldFX
If you think you have Flangers all figured out and placed neatly in your little square genre-defined box, then get ready to have your world turned upside down by the OBLIVION QUAD FLANGER. An otherworldly vast sonic sea awaits you with this device, as every turn of a knob and flick of a switch unlocks mind-melting tones. From epically lush modulated movements to intense regenerating alien airwaves, lo-fi bit-crushed textural landscapes and much more, Oblivion is not here to capture a snapshot of the past, it's here to open portals to the future!
With the OBLIVION, you have the traditional Speed, Range and Regen controls, but where this pedal really shines is in the three distinct Flange modes available.
We start with a classic Flanger and throw in Thru-Zero capabilities to pull you in and out of space. To push things a little bit further, we then came up with the Bi-Flange mode - offsetting a pair of modulating delay lines for even more sweeping movement.
That sounded great, so we said "Let's do it! Carpe diem! You only live once… how about four delay lines?". BOOM! The quad-flange mode adds those four (yes four!) independent delay lines for massive swooshing tsunamis of ominous textures.
To make things even more interesting, each of these three Flangers have their respective Degrade modes, introducing a lo-fi element unique to this pedal that grants you access to eyebrow raising textures, reminiscent of ring mods or robotic overtones.
Once all of that was accomplished we set out to cram in tons of flexibility for even more fine tuning. A Blend control helps to adjust your wet and dry mix for light and polite Chorus sounds or for a full-on swirling whirlpool of Flange. Expression and CV capabilities, with internal Dip Switches, add even more variation and control. Not to mention the multi-function foot switch capabilities for Tap Tempo, Speed Ramping and LFO Braking.
With top-mounted jacks and soft touch, relay True Bypass switching, this pedal truly has it all. So, what are you waiting for? Jump on into the sea of the OBLIVION, where growing layers of waves filled with the push and pull of the tide are waiting to wash over you.
KNOBS:
Speed: This knob adjusts the speed of the flanger, from low and slow, to warble fast. The speed can also be manipulated by using an expression pedal. (See Dipswitches)
Range: This knob adjusts the width of the flanger. When set fully counter-clockwise, the Oblivion enters into manual mode, where the flange can be swept with the Speed knob. The range can also be manipulated using an expression pedal. (See Dipswitches)
Ramp: The ramp is a momentary feature. This allows you to speed up or slow down the flanger by holding the tap tempo switch. With the knob in the center position, the Ramp feature is off. Turning it down from the noon position ramps it down, while turning it up from noon position ramps it upward. The distance the knob is from the noon position determines how quickly the speed will ramp up or down and return to its original position.
Regen: This knob controls the amount of feedback in the flanger. At higher levels (clockwise), the Oblivion will begin to self-oscillate. With exploratory tweaking on other knobs the pedal can become an instrument in and of itself, creating swirling soundscapes.The feedback can also be manipulated using an expression pedal. (See Dipswitches)
Blend: This knob blends the dry and wet signal from fully dry to 50/50. The deepest flange tones are achieved with the Blend set fully clockwise.
Level: This is a master volume of the pedal and can boost or cut the output.
SWITCHES:
Wave: This three-position switch changes the LFO waveform. When switched to the left, the waveform is bell curve, center selects a sine wave, and the right kicks in a downward sawtooth.
1/4-1/2-1: This toggle switch provides three tap tempo multipliers. The left position selects whole notes (1/4x), the center position selects half notes (0.5x) and the right position selects quarter notes (1X).
Flange: This toggle selects between three flange modes. The left position provides a classic through-zero flanger. The center position selects a bi-flange modulating 2 independent delay lines. The right position selects the quad-flange swirling 4 delay lines.
Degrade: This toggle switches on the lo-fi mode when set to the right. Each flanger setting has its own lo-fi mode varying the level of signal degradation.
Bypass/Hold Brake Footswitch: Turns the effect on and off. If you hold the foot switch down while the effect is on, you will momentarily pause the LFO until this button is released.
Tap/Hold Ramp Footswitch- See: Ramp- This footswitch provides a tap tempo and when the switch is held down it ramps the speed/depth up or down, depending on how the ramp knob is set.
AUXILIARY:
In: Plug in your instrument (or another pedal etc.) into here.
9V:The Oblivion requires a center-negative, 2.1mm 9VDC power adapter with at least 60mA of current (not included). Almost all power supplies meet this requirement, but check yours beforehand. There is no option for a battery.
USE OF AN IMPROPER POWER SUPPLY WILL VOID THE WARRANTY
Expression Pedal/CV Jack (EXP): Using an expression pedal takes over certain knob functions depending on the internal dipswitch settings. This jack can also be used for 0-5V CV operation. A special cable is required for CV operation - Mono 1/8" or 1/4" to 1/4"TRS with the ring disconnected for most applications.
Dipswitches:
Down/Down:

Expression pedal/CV controls speed

Down/Up:

Expression pedal/CV controls depth

Up/Down:

Expression pedal/CV controls feedback

Up/Up:

Expression pedal/CV controls speed and depth
Out: Connect your Amplifier (or another pedal etc.) from here.
WATCH THE DEMO HERE