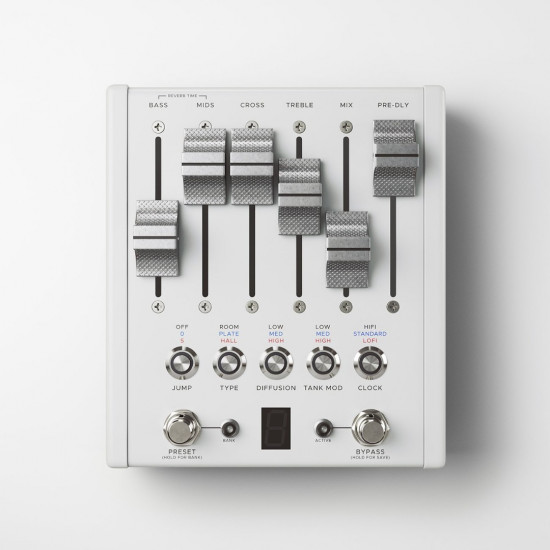 Out Of Stock


Chase Bliss CXM 1978 Vintage Studioverb

CHASEBLISS AUDIO
EXCLUDED FROM ANY COUPON CODE.

Reflections of the 70s.
1978 was a big moment for reverb. It was the dawn of sprawl, the first time reverbs were capable of massive trails and infinite decay. The CXM 1978 allows you to explore the charm of those late 70's imperfections, or our hifi and lofi reimaginings.
The reverb you'll find here is highly interactive and physical, built from a moving, evolving network of digital reflections. Each space has its own behavior and response, just like true reverb. 32 Bit AD/DA, stereo I/O, and internally boosted +/-15V rails for line level input.
made with
Meris
Use Cross to set frequency-based decay times.
Explore three eras of atmosphere with a push of the Clock button.
Excite your trails with the Tank Mod for sway and swirl.
Discover hidden easter eggs like the cloudy taps of sparse mode.
Crossover decay.
Split up.
The CXM 1978 takes a unique approach to decay, linking it to EQ just like natural acoustic reverb. You're able to set independent decay for the bass and mids, with Cross acting like a frequency splitter. By adjusting the EQ, you're actually setting the absorption of the walls that make up the digital reverb tank.
Type
Use Room's lively and grounded character to create a natural sense of space, or lean into the richness of the slower-building waves of Hall. Plate is the glue, a dense and flexible option that can fit in anywhere.
Tank Mod
Toggle between three different types of motion to support the atmosphere or make the walls start moving.
LOW : Subtle, organic liveliness.
MED : Dreamy, chorus-like waves.
HIGH : Rotating speaker-inspired overtones.
Diffusion
Smear the reverb's initial attack, especially handy for shaping percussive sounds and pick attacks. Diffusion is also your gateway to some unique behaviors hidden within CXM 1978's different spaces.
Variable fidelity.
Flaw forward.
Things were not perfect in 1978, and sometimes that's good. The Clock button lets you replicate and explore the flaws and limitations of late 70's technology, or tap into our cleaned-up Hifi interpretation. The Lofi setting introduces manual control over the sample rate, to dip into some degraded digital sparkle.
HIFI
48kHz
32 bit
STANDARD
24kHz
16 bit
LOFI
48 - 2.4kHz (var.)
16 bit
Expand and integrate
The CXM 1978 is built around motorized faders that react to preset changes and external control signals. It features advanced connectivity and customization options, including MIDI, CV, and Expression control, as well as 30 internal presets and support for AUX expansion.
Downloads
Specs
Stereo I/O
Presets (30)
MIDI (PC,CC)
CV control
Expression control
AUX switch compatible
Balanced (or unbalanced) I/O
Buffered bypass
Analog dry thru
HIFI: 48kHz, 32 bit
STANDARD: 24kHz, 16 bit
LOFI: 48kHz-2.4kHz (variable), 16 bit
5.75" x 6.5" x 2.5"
9V Center Negative ~500 mA
WATCH THE DEMO HERE