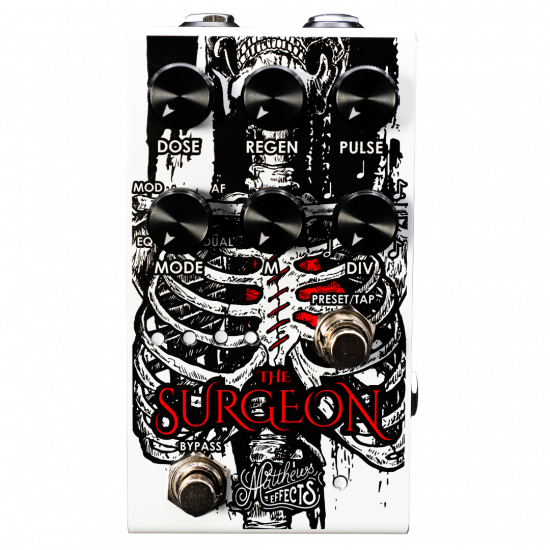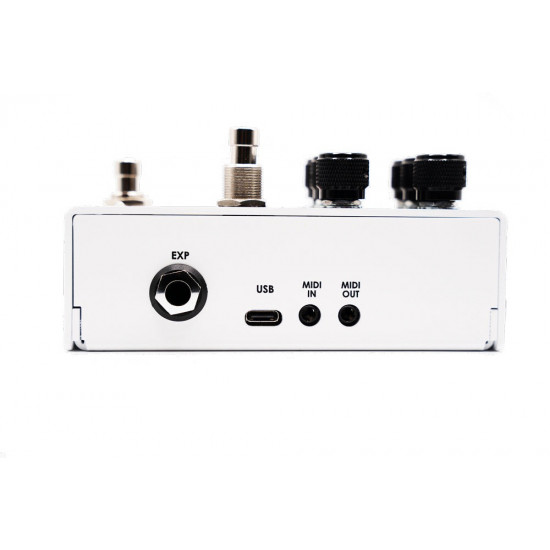 -15 %



Matthews Effects The Surgeon V2 Delay With Midi

MATTHEWS EFFECTS
We wanted to create a delay that packed in all the advanced features customers wanted but also an accessible experience that made it easy to plug in and instantly get inspired with the music you are able to create. This created the Surgeon.
Choose between 8 different algorithms divided into 4 categories Eq, Mod, AF, and Dual. Each with their own unique abilities and sounds.
With Tap, Presets, MIDI, USB, Expression, Ramp and a Computer editor there is no shortage of ways to control and augment your delays.
FEATURES
MIDI CONTROL OVER EVERYTHING!
The Sugeon can receive MIDI over 3.5mm TRS or via USB. Use MIDI to control all its features and parameters
CREATE PRESETS!
The Surgeon has a total of 127 presets. 4 can be accessed with the onboard "Preset" switch or you can access the expanded presets via MIDI.
COMPUTER EDITOR
Ccreate presets, edit globals and adjust controls in real time via the Surgeon Computer Editor
MIDI CLOCK
The Surgeon can receive MIDI clock to sync its delay time
RAMP
Ramp any and all controls to adjustable positions creating unique musical experiences.
EXPRESSION
Use a expression pedal to control any and all parameters to adjustable positions with unique toe and heel positions for each control.
ALGORITHMS:
The Surgeon V2 has 8 different algorithms divided into 4 modes and each with their own unique abilities and sounds.
EQ
Gives you two different EQ'd delays. What is unique about this EQ is that it doesn't happen before or after the delay but rather in the feedback loop. This means that as your delays feedback they will continually get Darker or Brighter. This is great for emulating both analog delay (darker repeats) and tape delay that continually gets brighter. Choose the LP mode for the repeats to get darker or the HP mode for the repeats to get brighter.
MOD
In the MOD category we wanted to give you two different options for dialing in your favorite modulated delay tone. The Depth mode has a fixed speed for the modulation LFO that we think is the most appealing and lets you adjust how deep you want the modulation effect to be on your delay. The Rate mode flips this having a set optimum depth and allows you to adjust the rate of the LFO.
AF
"Auto Filter" has a filter POST-delay that gives the delays movement and texture. In Depth mode the rate of the LFO on the filter is set to a place that we feel covers the most ground and allows you to adjust how deep that effect is on your delays. The Rate mode flips this having a set optimum depth and allows you to adjust the rate of the LFO on the filter.
DUAL
Gives you two different delay taps to play with. With delay 1 being in the feedback loop and delay 2 only triggered by Delay 1, this allows you to create unique delay patterns and textures that you can't create with only one delay. In Free mode delay 2 is independent of delay 1 and is not affected by tap. Use this to create unique delay creations. In Sync mode Delay 2 can be set as a division of delay 1 so as you tap or adjust delay 1 in any way, delay 2 will always be a division of that original time and keep them synced together.
CONTROL SUMMARY:

DOSE
Allows you to sweep from 100% DRY to 100% WET
REGEN
How much the delays will repeat.
PULSE
The time of the delay.
MODE
Choose which algorithm you want to use.
MUTATION
Each algorithm has a feature that you can adjust with this knob.
DIV
Choose between 5 different tap divisions to control the delay. 1/2, dot-1/4, 1/4, dot-1/8th, 1/8th
BYPASS
Press this footswitch to turn the pedal on/off. Press and Hold this footswitch to engage the "Ramp" feature
PRESET/TAP
In "Preset" mode this footswitch lets you scroll through the first four presets and then wraps back to preset 1. In "Tap" mode you can tap this footswitch to sync the delay time to a division of the tapped input. Double press and hold lets you switch between modes. Holding this footswitch for 1.5 seconds will enter save mode, another press will confirm the save.
COMPUTER EDITOR:
Click here to download both the windows and MAC version of the Editor.
TECHNICAL
MONO
USB C
TOP MOUNTED INPUT AND OUTPUT JACKS
9VDC CENTER NEGATIVE 100MA
2.67 X 4.77 X 1.55
DOCUMENTS
WATCH THE DEMO HERE