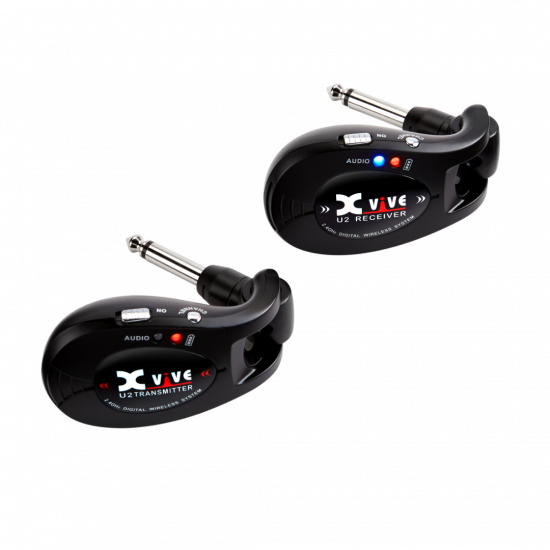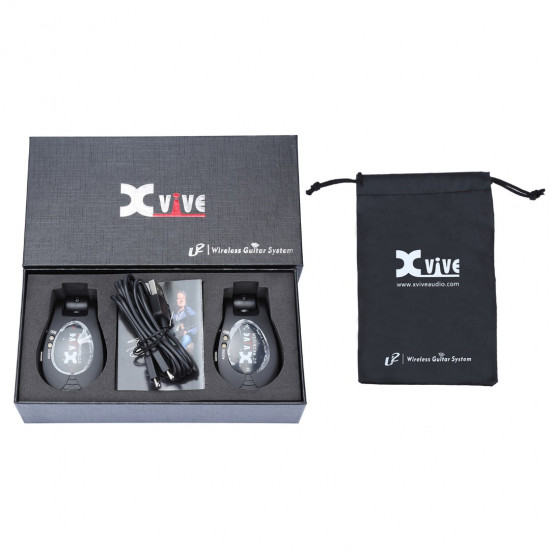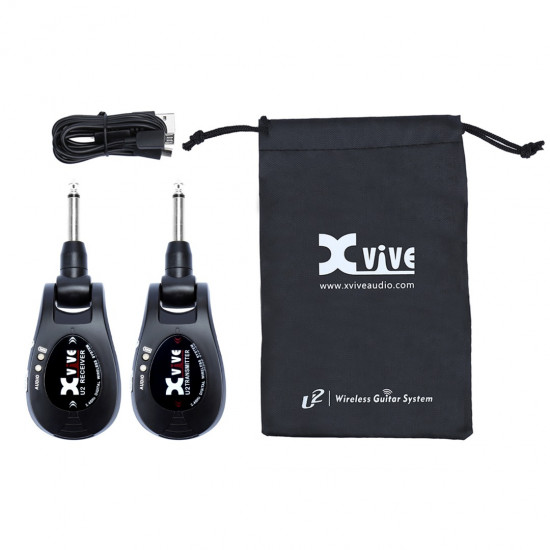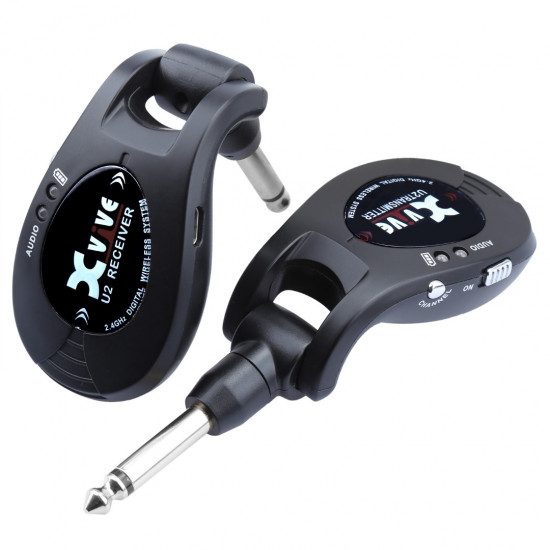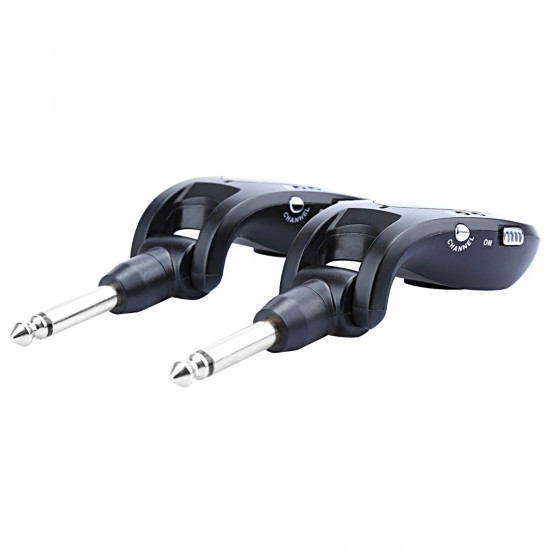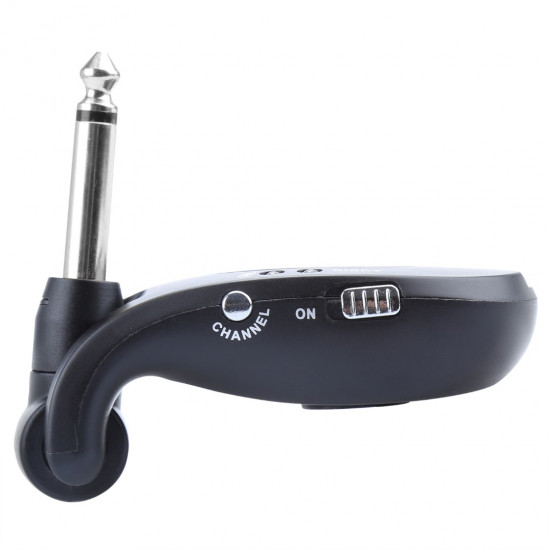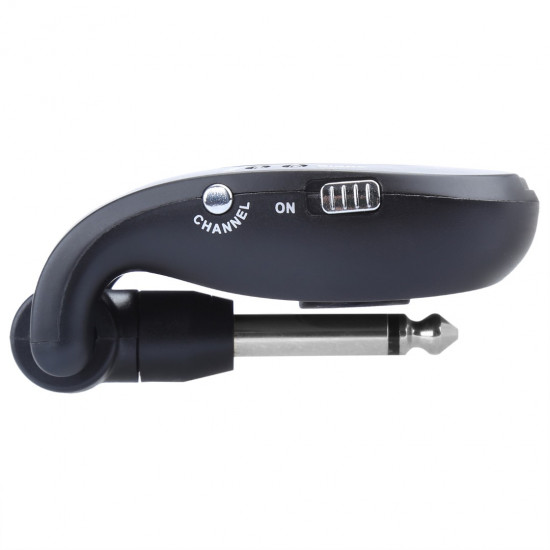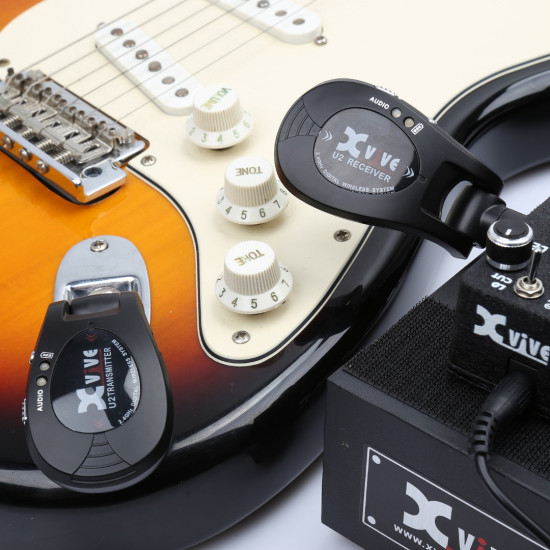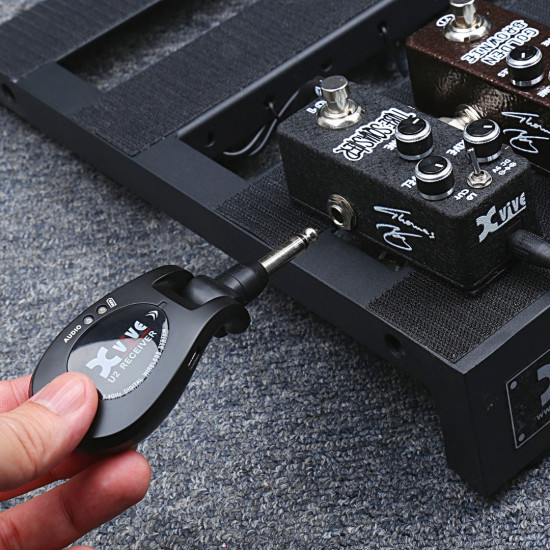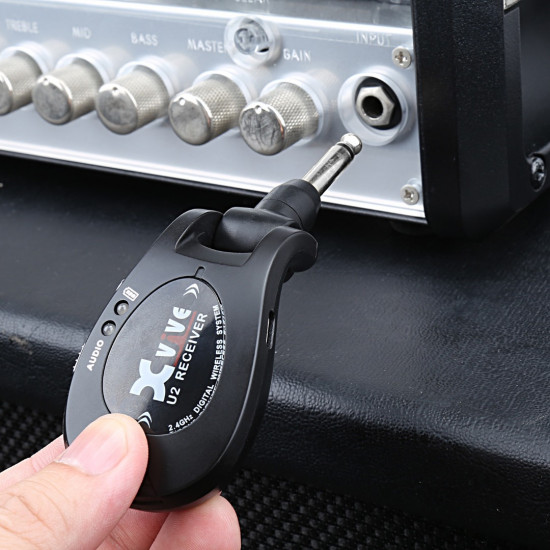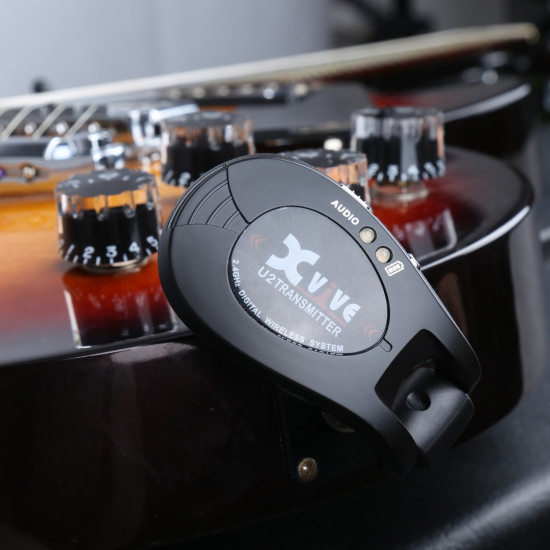 Out Of Stock











Xvive U2 Guitar Wireless System Black

XVIVE
Compact and lightweight plug-and-play wireless system for guitars, basses and other instruments
High-fidelity 24-bit / 48 kHz digital audio
Ultra-low latency of 5 ms
Wireless signal broadcasts on the 2.4 GHz band over a range of 70 ft
Onboard rechargeable lithium battery lasts for 5 hours
THE SYSTEM
The system is comprised of a transmitter unit, which connects to your audio source (typically an electric guitar or bass); and a receiver, which is connected to an amplifier, effect pedal/pedalboard, DI box or audio interface.
PRESERVE YOUR TONE
The U2 system features crystal-clear 24-bit / 48 kHz audio, with a very wide and smooth frequency response between 20 Hz and 20 kHz and a signal-to-noise ratio of 107 decibels. Going wireless with the U2 system will not compromise your precious tone!
TAKE CHARGE
The internal battery in both the transmitter and the receiver lasts for 5 hours. Both units can be easily charged at the same time using the included dual-USB cable and any standard 5V USB charger—and charging takes between 1.5 and 2.5 hours depending on the current of the charger being used.
UNCHAINED
Especially if you feel most comfortable with your instrument in hand, going wireless at home is truly liberating. Wander from room to room, sit anywhere, stretch your legs… you're free. When recording at home or in the studio, having less cables means no tangles—and no tonal compromise thanks to the system's 24-bit audio.
QUICK SWITCH
If you have more than one transmitter, you can keep one connected to each guitar; and when switching guitars, just power off the transmitter before you take off the first guitar, then power on the second unit as you strap on the second guitar. Just make sure all units are set to the same channel!
Specifications
WIRELESS TYPE: 2.4 GHz ISM worldwide open band
BIT DEPTH/SAMPLE RATE: 24-bit / 48 kHz
SWITCHABLE CHANNELS: 4
SIMULTANEOUS CHANNELS: 4
FREQUENCY RESPONSE: 20 Hz – 20 kHz (-3dB)
DYNAMIC RANGE: 103 dB (-3 dB)
SIGNAL-TO-NOISE RATIO: 103 dB
TOTAL HARMONIC DISTORTION: 0.2%
LATENCY: 5 ms
OPERATING RANGE: 21.3 m / 70 ft (line-of-sight)
TRANSMITTER
CONNECTOR: 1/4" TS
DIMENSIONS: 75 x 44 x 30 mm / 2.95" x 1.73" x 1.18" (with plug extended, L: 123 mm / 4.84")
WEIGHT: 40.7 g / 1.43 oz
MUTE: Yes
RECEIVER
CONNECTOR: 1/4" TS
DIMENSIONS: 75 x 44 x 30 mm / 2.95" x 1.73" x 1.18" (with plug extended, L: 123 mm / 4.84")
WEIGHT: 40 g / 1.41 oz
BATTERY
TYPE: Rechargeable Lithium-ion (internal)
BATTERY LIFE: 5 hours
CHARGING TIME: 2 hrs (full charge)
CHARGING VOLTAGE: 5V (USB)
USABLE WHILE CHARGING: Yes
Support
U2 Guitar Wireless System User Guide
WATCH THE DEMO HERE